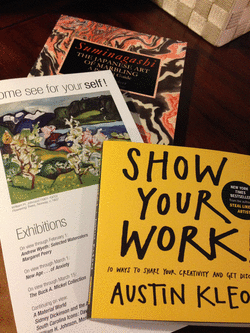 What's on my desk? Two books and a brochure. "Suminagashi: the Japanese Art of Marbling, a practical guide" by Anne Chambers; "Show Your Work! 10 ways to share your creativity and get discovered" by Austin Kleon; and the January/February exhibition and program guide of the Greenville County Museum of Art. Now on with my explanation of "Why?".

The Suminagashi book is a 1991 edition brought to my attention by fiber artist Helene Davis of Paducah, Kentucky. It's a classic volume relevant to my upcoming workshop offered through the Spartanburg Art Museum's Art School. Unlike Western marbling, Suminagashi does not require additives to the water bath in which the inks float. I love the fact that although the inks can be manipulated, the resultant transfer of ink to paper is influenced by the very nature of water...its fluidity. No one print is like another.

In the foreword of Chambers' book, Professor Akira Kuroaski writes about "sheets of decorative paper to create an aesthetic of perfect balance between the beauty of the paper, the calligraphy and the imagery of the poems" that were inked in 11th century Japan. A number of the "decorative papers" were done in suminagashi. Swirling inks, a moment captured in time, like a photograph without a discernible reference to the literal or the figurative. Suminagashi is simply floating ink snatched in its momentary evolution. Very Eastern.

Jump ahead 23 years to "Show Your Work" by the same author that brought us "Steal Like an Artist." I can't keep copies of the latter around as I am always gifting them. Both books are easy reads, just right for today's shortened attention span. Kleon is a self-described writer who draws, and who I first discovered via his blackout poetry, an exercise I've used (and credited) in creativity workshops. Pithy quotes, chalk-on-blackboard sketches, photographs, and lots of blackout examples make this 6x6-inch book an enjoyably graphic experience.

Kleon addresses a range of topics including the emotional vulnerability as well as business side of staging an exhibit. The author shares his trade secrets and encourages this level of collegiality among artists of all genres. Among his suggestions: send a daily dispatch; "A daily dispatch is even better than a resume or a portfolio, because it shows what we're working on right now." Share your taste via the work of others; "Your influences are all worth sharing because they clue people in to who you are and what you do - sometimes even more than your own work." And talk about yourself; "Have empathy for your audience. Anticipate blank stares. Be ready for more questions. Answer patiently and politely."

Here's the chapter that surprises me - "Read Obituaries." I have begun but not as an exercise in morbidity. In Kleon's words, "Obituaries are like near-death experiences for cowards...Reading about people who are dead now and did things with their lives makes me want to get up and do something decent with mine."

Yesterday I sat in front of Sidney Dickinson's "Boy on a Horse," in the Alabama Suite exhibit at the Greenville County Museum of Art. I engaged passersby "patiently and politely" while sketching the soulful gaze of the youth astride a horse. I was here last week and will most likely take pencil to paper again next week, all in preparation for my demo during a Sketching in the Galleries session on January 25. The Museum provides Sunday drop-in opportunities that are free and open to the public, no preregistration required. During the sketching Sundays, visitors sit on stools, are loaned sketchpad and graphite pencil, and are treated to a mini drawing lesson from 2-3pm. Each week is different, with offerings of music, history, film, and demonstrations. Duke Energy is the series sponsor, but it is the Museum that should receive credit for initiating this level of community engagement. Bravo!

And best wishes for the new year to each and everyone.