contact, press & links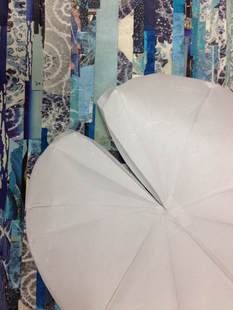 Christina Laurel
- artist creating installations, working in paper.
Press:
Blog by photographer Susan Crutchfield and text by Rebekah during my
ArtRez artist residency
, April 2017, in Newnan, GA.
"Christina Laurel creates art installation" by

Maggie Bowers,
Newnan Times-Herald, Newnan, GA, April 30, 2017
Guest blog
, posted October 17, 2016, from artist residency,
Virginia Center for the Creative Arts
, September 25 - October 4, 2016.
Rebecca Rafferty's City Newspaper review!
of "Three Views" exhibit in Geisel Gallery at One Bausch & Lomb Place, Rochester, NY, December 2015
Laurel Black's article "
Fiber Artist creates 'exhale moments' in Paducah
" in October 23, 2014
Paducah Sun
Caroline Sellars' Artist Profile
"Collage artist finds fascination in Eastern traditions"
in July 9, 2014
City People/Greenville News
Steve Wong's column "
Edo Influence: Artist combines small elements to create harmony
" in June 15, 2014
Spartanburg Herald JournalHerald Journal of Spartanburg,
May 29, 2014
Terry Jarrard Dimond's blog interview featured in Scott Cunningham's March 2014 blog in
The Artist Index
Katherine Rushworth's review of "Layers," Red House Arts Center/Joan Lukas Rothenberg Gallery, in
Post-Standard
/Stars, August 7, 2011. Laura Austin, Artistic Director, Red House Arts Center: "Stunningly tactile and visual experience." Red House
video
trailer; excerpt from the
WCNY interview
Artists:
Terry Jarrard-Dimond
Naomi Nakazato
Jeanne Raffer Beck
Kathryn Schnabel
Art Organizations:
ArtRez, Newnan, GA
Artists U
Artists' Guild of Spartanburg
Hambidge Center for Creative Arts
Metropolitan Arts Council
Paducah Arts Alliance
Virginia Center for Creative Arts
Galleries & Museums:
Gallery at Flat Rock, NC
Geisel Gallery, Bausch & Lomb
Greenville County Museum of Art
Riverworks Gallery
Rochester Contemporary Art Center
Spartanburg Art Museum
All images and text copyright 2017 Christina Laurel.
---