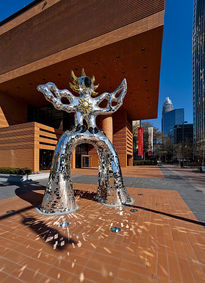 My last visit to Charlotte, North Carolina, involved a day trip to Discovery Place with a then-pubescent son. More than a decade later, I am bypassing the science museum enroute to The Mint Museum Uptown. By the end of the day, my legs will have transported me to the Bechtler Museum of Modern Art, under the arching legs of Niki de Saint-Phalle's "Firebird," and around the Harvey B. Gantt Center for African-American Arts and Culture. Each is housed in modern architecture full of natural light; the three museums are part and parcel of the Levine Center for the Arts, and lie within a quarter city block. Really.
Current exhibitions range from Gantt's gallery brimming with colorful Jonathan Green paintings celebrating South Carolina coastal culture; to Bechtler's "Artistic Relationships" juxtaposing works by friends such as Miro and Calder, and lovers such as Tinguely and de Saint-Phalle; to Mint's "F.O.O.D. – Food, Objects, Objectives, Design" showcasing everything from melamine to bamboo. Usually I am a bit glazed over with this volume of museum input, but today's experience gently energizes.
Although I was grateful for the Mint's array of benches as my torso began to swirl alongside Jennifer Steinkamp's video "Orbit 12." The artist describes the installation as "the depiction of the celestial mechanics of a planet spinning through its year. Various trees with their leaves and flowers are blown by turbulent winds conveying the passage of time." Once seated, the piece mesmerizes. Check out the quick-time movie on her site to glimpse the sensation and scale (http://jsteinkamp.com/html/body_orbit.htm).
With notebook in hand, I jot down the works that catch my attention, that make a connection, or artist's names that I will research later. An enthusiastic Mint Museum guard points out his favorites, complete with interpretations of the massive installations and sculptures; I am tickled to see a guard who so visibly enjoys his work and engages with museumgoers. Individual galleries at the Mint are devoted to finely crafted and designed pieces, and organized by medium: glass, wood, metal, clay, paint, paper. I overhear a visitor who disappointedly comments, "There is a lot of museum here but not much art." Silently I differ; true to my own preference, the 5-story, 145,000 square-foot structure offers a perfect spaciousness in which to observe and absorb. Ahhh…breathing room.
There is, however, a minor disappointment at the Mint when I encounter my first Anne Truitt 1970s sculpture, "Night Wing," and find either the sculpture or the lighting inadequate, especially after reading her published journals explaining the multiple layering of paint to produce the saturation of color. Whatever the cause, the display fails to fully illuminate the depth of this layering. It is also at the Mint that I learn more about a favorite collage artist and native-born Charlottean, Romare Bearden.
At the Bechtler, my discovery involves the Giacometti brothers: Alberto, Diego, and Bruno. I learn that younger brother Diego proved invaluable to Alberto as model, advocate, and production assistant. It is a reminder that art is not always as solitary an endeavor as some artists experience or as some viewers imagine.
At the Gantt, it is Jonathan Green's 1996 lithograph "Noon Wash" that totally dominates my attention. Green's deep blues capture the Carolina sky and ocean, his verdant greens the wavering sea grass, and his lyrical style the wind-billowed dresses, sashes, aprons, and sheets that comprise the coastal women's world. The exhibit presents the evolution of the artist's style; his ability to portray figure and portrait, as well as reduce these elements to their minimum. "Noon Wash" is rich in its simplicity: a white dress melts into the sheets on the clothesline and contrasts dramatically with the dark silhouette of arm here and leg there.
It is one thing to read art history, to gaze at photographs of sculpture and paintings, or even to hear lectures complete with PowerPoint images; it is quite another to stand in front of - or in the case of de Saint-Phalle, under – an actual artwork. There is no experience like direct experience. For a person who is self-described as a one-museum-a-day type, soaking in three is quite a feat, but also a treat.
Additional resources:
Mint Museum exhibition information,
www.mintwiki.pbworks.com
Harvey B. Gantt Center,
www.ganttcenter.org
Bechtler Museum,
www.bechtler.org
Levine Center for the Arts,
www.levinecenterarts.org