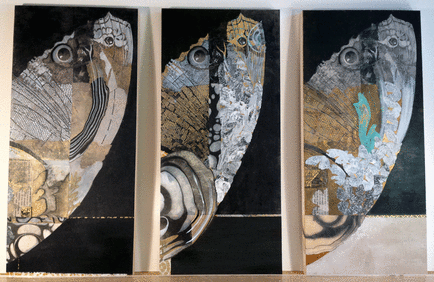 After ordering three cradled wood panels measuring 22 x 10 inches each, I almost immediately order four more. A new series is birthing itself using one of my familiar motifs: the butterfly. Although I don't usually share works in progress, here are the first three of a series of...well, I'm not sure yet. In a sense, this new work is merely a continuation of a series "100 butterflies" begun in 2007.

But I've been using my butterfly template intermittently since the 1970s. While the silhouette is instantly recognizable, it is its compositional form - specifically, the arching of the upper wing - and its metaphorical qualities that I want to further explore here. By retaining the proportion of the wing as a constant in the composition, I can manipulate the foreground and background with mixed media to create variation. Variations on a theme; this sounds downright musical.

The artwork itself is a reprint of an earlier piece of mine, "100 butterflies: 13." Eliminating hue by printing it in value-mode allows me to reintroduce hints of color. I then adhere the printed rice paper onto the prepared cradled-wood surface. Next comes collage, suminagashi, inks, and acrylics to create each piece's uniqueness. The work on the far right of this "triptych" is the least finished of the three.

Yes, orienting the wing vertically is intentional. It is not the orientation that our minds expect or anticipate. The original "100 butterflies: 13" hangs horizontally, but I am into all things vertical right now. The dialogue between myself and this new series has begun. It is a quiet exchange; I find that I have to listen attentively to hear what the work is telling me.