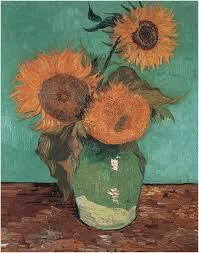 Van Gogh. Is that not all I have to say in order for images to appear in your mind? Self portraits, Starry Night, the Yellow House, and the Sunflowers. When I discover "The Sunflowers are Mine: the story of Van Gogh's masterpiece" by Martin Bailey (2013) in the library, I am not intentionally seeking out books on Vincent. But in the same way that his energetic brushstrokes draw me into his work, I am drawn to this book.
​The Dutch artist was prolific, producing more than 1,000 drawings, 150 watercolors, 10 graphic works, 9 lithographs and an etching, and 900 plus paintings in his lifetime, 1853-1890. In his 37 years. Luckily, Bailey's approach is not biographical as much as it is a focused beam on a period and a theme. In 1888 and 1889, Van Gogh completed four original sunflower paintings and at least three signed and unsigned copies. In my ignorance, as I begin the book, I am aware of only the most ubiquitously-reproduced two paintings, "Fourteen Sunflowers" and "Fifteen Sunflowers." Now I am smitten by "Three Sunflowers" and "Six Sunflowers," especially the former.

To think that without Theo's encouragement that Vincent "do flower paintings" because "they might prove more marketable," the world might not have the Sunflowers. What strikes me as I read this is that the marketability of art remains an issue for artists over a century later. Landscapes, portraits, and flowers comprise, I am guessing, still the most marketable of genres. But Van Gogh's sunflower paintings did not sell in his lifetime. In fact, it appears there is only one documented sale of a Van Gogh painting before his death. A sobering fact indeed.

You are probably wondering about the copies that Van Gogh made of his own work. I certainly do, but I have come to understand his rationale of using the copies as gifts and barter with other artists. Including others such as Paul Gauguin who, during the two artists' tumultuous time together in the Yellow House in Arles, portrayed Van Gogh in "The Painter of Sunflowers." Their experiment in artistic camaraderie only highlights the rewards and challenges of cooperative ventures. I am personally hopeful as I learn about contemporary artists who envision and try out different models of collaboration.

In my lifetime I do not anticipate traveling to Munich, Germany, to view "Fourteen Sunflowers" in the Neue Pinakothek, or to London, England, to view "Fifteen Sunflowers" in the National Gallery. Closer to home, I can view a signed copy of the "Fourteen Sunflowers" in the Philadelphia Museum of Art. Unfortunately "Six Sunflowers" was destroyed during the Hiroshima bombing, and "Three Sunflowers" is in a private collection. Oh how I would love to see this painting in person. I agree with Bailey that their "yellow-orange sunflowers sing in front of the vibrant, bright turquoise. It is a stunning picture, full of life." As enthusiastically as the sunflowers are depicted in subsequent paintings, this first in the series touches my heart and soul.

The provenance of each of the sunflower paintings occupies several chapters in Bailey's book. Some were sold out of necessity by the widow of Theo, following both his and Vincent's deaths. The trails are often long and convoluted but interesting to my art historical bent. I enjoy the photos of the paintings in situ, especially "Fifteen Sunflowers" hanging above the heads of Vincent's nephew and namesake Vincent Willem Van Gogh and his wife Nelly in their 1949 home.

The title of the book refers to a remark Vincent made to his brother Theo in a letter, "the sunflower is mine." Bailey puts this in greater context, referring to two of Van Gogh's contemporaries, Georges Jeannin and Ernest Quost. In an exchange between Van Gogh to Gauguin, the artist writes, "...if Jeannin has the peony, Quost the hollyhock, I indeed, before others, have taken the sunflower." In his final chapter, Bailey writes that "Once Van Gogh's Sunflowers became famous, viewers tried to unravel their meaning." In a letter to the art critic Aurier, the artist speaks for himself. His Sunflowers "express an idea symbolising 'gratitude'."

So straightforward and direct, like Vincent Van Gogh's penetrating vision, like his vulnerably honest brushstrokes. I am grateful for having learned more about the Sunflowers. Thank you Martin Bailey.