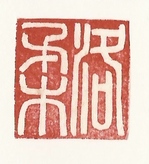 I am recovering from bronchitis and discovering patience in the process. Patience is folding origami cranes between coughing spasms, when my preference is to be scouring thrift stores for raw material. Patience is rocking with the kitten, when my body wants to head out to the art supply store. Patience is waiting for health, waiting for the armature of a fan hanging on my studio wall to reveal its natural evolution.

Which transports me to a decision made 7 years ago when my artist seal became my artist's signature. According to Oriental Art Supply, the soapstone for my chop was gathered from the coastal regions of Fujian and Zhejiang, China. While my work references Japanese art, I do more broadly acknowledge an Asian aesthetic.

Dated August 1, 2006, this email arrived from OAS, following my order for a seal for "Laurel":

"Dear Christina,
We received your order request for your signature and artist seal. We are writing to make a suggestion regarding the characters that you have included use (sic). The three characters that you provided are not the most poetic and thoughtful translation possible. The first chosen character is translated as "laborious." The second character as "flower bud." The third character is just a phonetic sound that has not particular meaning.

We had our translation specialist take a look at the name Laurel and they chose a two character translation. The first character means "spirit of water." The second character is translated as "softness." This translation we feel is much more elegant. If you like this translation, we can provide it for you at no additional charge as you have already included payment for a signature card which includes the translation services. Please let us know at your earliest convenience how you would like to proceed.

Best Regards,
Ja-Shin Yeh
Oriental Art Supply"

I am still touched by the consideration shown in sending this communication which offers me an alternative. "Laborious flower bud" is actually a concept I can relate to more easily than "Spirit of water softness," but it is definitely not as poetic. I like poetry. The left brain wants to analyze ad nauseum the import of my seal's translation. Spirit of water: mist, waterfall, ice, vapor, cleansing, gushing, streaming, puddling, trickling, drowning, raining, downpour, salty, hard, soft, life-giving, life-threatening, life-destroying. Softness: arcing, arching, spherical, resilient, cloud, tactile.

While my art has been described as beautiful, elegant and engaging, it is not the favored flavor-of-the day: hard edge. My art is not edgy. Most often it is a weaving - literally and figuratively - of subtle imagery, black/white/gray with a nuance of color, textured, and layered. Like life.

So, thank you again, Ja-Shin Yeh, because while laboring as a flower bud, I am embracing a spirit of water, softness. It is an embrace that requires patience as it unfolds, like the petals of a bud.