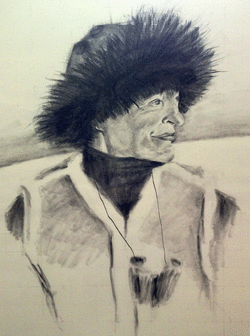 When Charlotte, NC-based artist
Terri Otten
peers over my shoulder at the sketch of "Tundra," she smiles slightly and comments. Interacting with museum-goers is not an unusual experience for me, as I prepare for a Sketching in the Galleries demonstration at the Greenville County Museum of Art. What is unusual: a visiting artist who specializes in portraiture. All of my insecurities surface as I pause with a #2B graphite pencil in hand. I am not a portraitist. "It certainly is a good likeness," Terri comments. Her gracious tone relaxes my pencil grip, and we exchange website information.
Previously, on May 26, I presented another Sketching in the Galleries, focusing on the female in Sidney Dickinson's 1936 painting, "The Pale Rider." It is part of a traveling exhibition,
Southbound
, that has a limited viewing at the Museum. I sketch the entire composition, then the portraits of the two main figures, and finally concentrate on the piercing gaze of the female. Over and over again.
I repeat the process for the September 22 demonstration, this time opting for Andrew Wyeth's 1993 portrait of his wife Betsy. Both selections are mine. As I struggle to capture Betsy's strong facial features, I question my choices. I find it a challenge to translate oil paint, in the case of "The Pale Rider," and watercolor and drybrush, in the case of "Tundra," into graphite on paper. It is a challenge, albeit rewarding.
And it is one that I ask of my beginning drawing students. Yes, I am the instructor who places a mirror in front of each gulping student and tasks them with self portraiture. If a plaster cast of a skull is available, I will bring it to the table; all the more for understanding the armature of our human sculpture. I recommend a most intriguing book:
Eye Contact: Modern American Portrait Drawings from the National Portrait Gallery
, as it showcases portraiture from caricature to Impressionism to Pop.
On May 26, more than 20 participants appear for the demo at the Museum, and on September 22, over 30 participate. We are all learning together at the feet of a master: Andrew Wyeth. His work is as dry as the New England landscape he portrays. Wyeth's description of Maine is quoted in the catalogue of his Metropolitan Museum of Art exhibit: "all dry bones and desiccated sinews." But, oh, how well he records those bones and sinews!
Wyeth's work varies greatly from portraits by artists whose work I am inclined to study: Alice Neel, Vincent van Gogh, Berthe Morisot, Chuck Close. Alice Neel's (1900-1984) 1980 "
Self Portrait
" is about as honest as it gets: gravity pulls the 80 year-old's nude flesh toward the horizon line while the artist confidently raises a paintbrush in one hand and rag in the other; her silver hair is combed, her eyeglasses frame a straightforward gaze, and all this in contrast to the crisp blue-striped upholstered chair on which she sits. Neel does not slump but instead angles forward, as if toward her canvas. It is an unabashed look at reality. Her probing portraits make me squirm (not as much as Jenny Saville's), while at the same time appreciative of her artistic prowess.
Similar comments can be made about Vincent Van Gogh (1853-1890). In fact, what can I say that would be "new" about his work? Perhaps this simple fact: he painted 30
self portraits
between 1886-1889. He found drawing himself a worthwhile exercise in skill building. Accomplished and famous artists need to build their skills? I arrive at the conclusion that all artists need to build, or least hone their skills, and to state the obvious, we always have ourselves as available models.
From the same time period as Van Gogh but less well known than her brother-in-law Edouard Manet, is the oft overlooked French Impressionist
Berthe Morisot
(1841-1895). Her 1885 self portrait reveals both the artist's physical beauty and beauty of brushstroke. The immediacy and energy of that captured moment is not diminished by the passage of time.
Returning to the contemporary, I am fascinated by
Chuck Close
's continual exploration into portraiture. In 2006 I toured the Albright Knox exhibit,
Chuck Close: Self-Portraits 1967–2005
, which included photography, collage, printing, painting, drawing...80 works, most of a monumental scale, that constantly inquire "Who is Chuck Close?". Portraits formed of fingerprints, gridded portraits molded from paper pulp, portraits from photorealistic to conceptual. His experimentation with media still reverberates in my creative consciousness.
All of this to say that, while not a portraitist, I do appreciate the genre. Drawing from life, drawing from paintings or sculpture, drawing while looking into the bathroom mirror; it's all good practice. See you around the Museum; bring your sketchpad and an Ebony pencil.