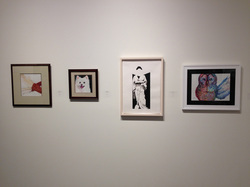 How exciting to exhibit for the first time, and how vulnerable for the artist. Sharing a work in progress with classmates is a brave act in itself; sharing a finished drawing with family and friends yet another. But opening oneself to the public - to the stranger's probing eyes, to a jury of professionals, and perhaps to a reviewer's critical tongue - takes bravery to the next level. I have been there, and remember the sensations that accompany rejection, acceptance, and admiration. So, as the Student/Faculty exhibition at the Spartanburg Art Museum comes to a close tomorrow, I applaud Jung for her Indian corn drawing, and Morgan for her dog portrait and imaginative owl drawing.
If I was wearing a hat right now, I'd take it off as a gesture of respect to all of my students. To Jung for all of her hours at home completing projects begun in class. To Morgan for defying the stereotypical image of a "know-it-all" teenager and actually listening, and for being the youngest member of the Artists Guild of Spartanburg. To Pam for staying up until 3am working on a technical pen still life full of cross hatching and mark making, "trying to get a handle on this style."
To Linda for honoring her instinct on the portrait of her late husband, "I stopped short of where I thought I could go because I felt it was better than pushing too hard and getting to a place where I lost everything. My new art professor liked what I had done and wanted me to take it farther but I have decided to stop where I am. It is probably the best piece of work I have produced this year."
When the "I can't draw a straight line" student tentatively fingers this new set of tools - graphite pencils, colored pencils, kneaded eraser, paper blending stump - I remind them that I would feel the same were this class in music, drama, or dance. Their nervousness is acknowledged but quickly refocused into making a unique mark onto paper. Again, I take my hat off to Anne and Karen for enjoying a friendship around the common bonds of nursing, quilting, and drawing. They were students from two different classes whom I introduced. To
Dan
for following his drawing passion from graphite to new mediums ("Late Summer Field" below).
Since 2009, I have taught more than 45 art classes in museums, private studios, enhanced living facilities, developmentally-disabled day centers, and senior living centers to innumerable students, ages 6 through 90. When I revisit the class rosters, I envision almost all of them sitting around those long tables in the morning, afternoon, and night sessions. The classes were often intergenerational; I can still hear gregarious 17-year old Nick conversing with his neighboring 70-year old at the Memorial Art Gallery/Creative Workshop. There were classes with: brain-challenged Marc, so proud of his battleship and jet drawings from middle school; the mother who traveled over an hour on Monday nights just to draw with her college age son; and Scott and Audrey, the father-daughter duo who sat side-by-side sketching in Lamberton Conservatory. The memories are as many and varied, and vivid, as the students themselves.
Violist Margaret contacts me a year after class to share her
creative blog site
("Shoreline Hwy" below) and emails this thought: "... I often think of our class, which was my first real drawing class, and how exciting it was for me, and how it helped launch this art adventure I am on, confirming my commitment to discover what I want to do and how I want to do it, giving me ways to think about things and tools to help me discover things." As a teacher, how could I ask for more? Thank you, students. I take off my hat to you.