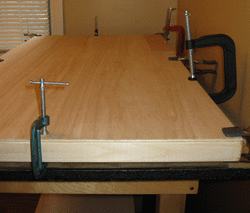 The customer service person at Home Depot and I pull over a dozen 1x2-inch lengths of 8-foot pine, staring each one down - literally - to find just two that are "true," or are closest to true. Warping in several dimensions is more common than not, making the discovery of the best among the stack a timely task. The same is also the case when selecting a 2x4-foot hardwood-surfaced panel.

And to what purpose, you ask? I am creating my own cradled wood substrate for a new collage. Of course, in order to do this I invest in a miter box and saw, spring clamps, c-clamps, and wood glue. Let me be honest here: I am not a carpenter. My respect for this skill has just grown another notch as I test my own patience while constructing the frame. But this is the desired size and one I can create, rather than wait for UPS to deliver a prepackaged frame at my door.

While the experience of building the frame is yet another character-builder in a life beginning to brim with character, I am glad for it. It reminds me of the concept of "true": "reflecting the genuine character of something," one of the many definitions in my 2001 Random House dictionary. I would normally edit myself for using the same word three times in two sentences, but it fits here, so I won't.

"Accurately formed" is another definition. I seek accurately formed wood products to serve as ingredients in my homegrown recipe for a cradled wood frame. While the task of discerning the best pieces of wood for the job seem almost unattainable, the next task is even more daunting. It is the blank canvas or more accurately blank wood - staring so objectively at me - waiting for my subjective art to appear on its planar surface, that is my next and ultimate challenge. So, here I go, once again seeking "true."