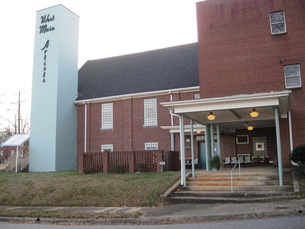 From a vanity gallery under construction to an artists co-op in a church, my horizon is now expanded as to the spectrum of creative venues available in the Upstate (South Carolina, that is). In my January 8 blog I wrote about Greenville's arts district, so that in all fairness, in this blog I write about Spartanburg's co-op first.
Before our predicted freezing rain hits, I welcome the drive to 578 West Main Street in
Spartanburg, keeping a watchful eye for the church on top of a hill (no, I do not have a global positioning system). From both my visit and the website of
West Main Artists Co-op
, I learn that in addition to printmaking, ceramic and visual arts studios, the building houses a gallery shop and several exhibition spaces, including the sanctuary itself. In fact, Grace Presbyterian Church worships here on Sundays, right in the midst of whatever art is hanging on the walls. In fact, my favorite aspect of this visit is the ninth-grade exhibit in the sanctuary where a reception is warming up, with awkward teens blushing while proud parents and teachers congratulate their efforts. Bravo to the Co-op for hosting this inaugural event!
For the record, the Co-op is a nonprofit organization, funded in part by the South Carolina Arts Commission, which receives support from the National Endowment for the Arts. But the back story revolves around one retired individual who wanted a co-op, this Co-op. Participation requires of members the euphemistic "sweat equity" - which translates into carpeting, painting, and cleaning - alongside a commitment to be active in a committee or two. Reasonable enough in exchange for camaraderie and modest studio rents.
Speaking of, I was informed that the small studios are the size of a typical Sunday school room, but honestly feel not much larger than a walk-in closet.
The spaces do vary and I find the airiest, light-filled studios located on the main floor. While the stairway carpets are a well-worn religious red and there is a bit of mustiness in the air, I do see evidence of a genuine effort to keep total funkiness from taking over the three levels.
I am - and the general public is - invited to return for Spartanburg's Third Thursday Art Walk. I hope the weather cooperates on February 21.
On yet another sunny cold weekday I meet Levis Cormier in front of 1243 Pendleton Street in Greenville's arts district in what has been described as a city-assigned "poser name," the Far West End. A series of buildings, including the one in which Cormier is investing, are undergoing a transformation inside and out. Les Beaux Art - essentially a vanity gallery - is set to open at the end of March, according to Cormier.
Inside, workers are busy mounting and plastering drywall booths, for lack of a better word for the three-walled spaces lining both gallery walls, including v- and x-shaped
booths in a central aisle. The booth design seems to be
modus operandi
for the selling of antiques but appears to have wound its way into the art retail world as well.
Not familiar with vanity galleries? Here, the
artists rent wall space at $9 per linear foot, so that a 6-foot wall costs $54 per month, or a 6x8x6-foot booth goes for $180. Plus there is a 10 percent commission on sales, handled by one paid staff person located at the front of the gallery during open hours. I am not promoting nor am I commenting on this type of arrangement, just providing the facts.
Although I credit myself with
a vivid imagination, it is a stretch as Cormier and I gaze out the back door onto the sodden earth where exterior studio walls are architecturally staked. A door here, several studios and a communal coffee station there, plus a teaching studio over there. Another back door will open onto a parking lot, currently a grassy patch. Cormier exudes enthusiasm for the arts and for artists, for the future of this ever-evolving neighborhood. If interested, I suggest contacting
Levis Cormier
.
Next week I will visit a another studio space available for rent in Travelers Rest, a second-story three-windowed former hospital nursery.
My horizon will be expanded yet again, my search for a perfect studio continues. In the meantime, I hope the sunset paints the sky in those luscious peach and mediterrean blue hues again, just as it did today.