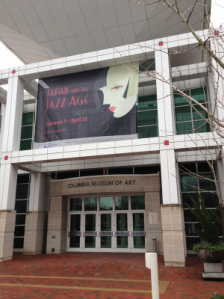 I have yet to meet a state capital that is an attractive urban center, and Columbia, South Carolina, is no exception. That being said, my sojourn to Columbia is twofold: to attend the opening of
Enid Williams
' exhibit "Systematic Chance" at
ifArt
and to peruse the collection in the
Columbia Museum of Art
. The latter is more successful than the former, as rainy weather progresses to flash-flooding. While I am able to view Williams' engaging paintings and monotypes, and to meet the owner/director of ifArt, the thought of driving in the dark fog of rain pushes me out the gallery door prematurely.
The scale and scope of the Columbia Art Museum feels familiar, akin to that of the Memorial Art Gallery in Rochester, New York. The museum receptionist suggests that 2 hours will be adequate for touring; I am here from Noon to 3:30pm. Then again, I'm actually reading labels this time around and paying attention to what catches my attention.
Fans catch my attention. Such as the one held by the bride in 17th-century Flemish oil painter Jacob van Oost the Younger's "
The Groom Presenting the Bride to His Mother.
" And another in 19th-century British portraitist Rowland Holyoake's "Portrait of a Woman."
Texture captures my attention, as it must have captured that of Holyoake who portrays a variety - lace, fur, feathers, velvet, satin, beads - with a deftness of technique that is enviable. I often sense that painters are mirroring how we perceive the universe. Up close, our planets are mere paint strokes on a cosmic canvas. The universe we inhabit stretches beyond our field of vision but, with the aid of telescopes, its greater scope unfolds. On the canvas, images coalesce as we step back to appreciate the relationships of paint strokes.
Models catch my attention. Who are these men and women, boys and girls - who are paid a pittance for enduring hours of posing as stand-ins for the Virgin, the saints, and the angels? Who is the young redhead modeling for 17th-century Venetian School painter Bernardo Strozzi in his "
St. Catherine of Alexandria
"?
Workers behind the scenes capture my attention. Who mines the lapis lazuli later ground into pigment for the
Nativity fresco
by Sandro Botticelli? What is it like to be required to consider the import of every single detail and choice of color in religious art, such as 15th-century Florentine painter Giovanni dal Ponte's triptych "
Virgin and Child Enthroned with the Archangel Michael, and Saints Lawrence, Stephen, George
."
While the weather tries its best to dampen my spirits, it is the art that triumphs and buoys me. Engaging art - from Williams' exhibit at ifArt to a sampling of Asian, European, Colonial, Medieval, Ancient, and Contemporary art in the Columbia Museum of Art - provides me with food for thought and inspiration for creating.