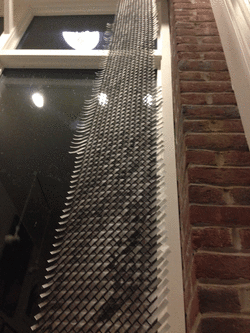 Good grief. I am on my way to completing a rather obsessive-compulsive piece of work, in perhaps just another hour or two. It will have to wait until the morning.
Yesterday, Sunday, I begin with 16 feet of gutter guard (aka "polymer substrate" for the art world), pre-coated shoji paper onto which I inkjet-print an image of one of my previous artworks (aka "referencing my own work") in both color and black/white. Follow this by cutting the shoji paper into 1/4-inch strips, by hand, with an xacto knife, and trimming the flashings off the polymer substrate. At this point, I wish I had ordered that pasta-cutter for generating those 1/4-inch strips.
"Why?" you ask. Good question. It starts with a concept, an idea, a "what if?". Then I begin weaving the strips and I like what I see. But I need to see more, and so it goes, hour after hour. At this point I am grateful that Studio Mars has such high ceilings, and that soon I will give my back some much-needed rest.
Returning to yesterday: I walk to the river in the sun and warmth. Plural, actually, as the confluence of the Ohio and Tennessee rivers is in plain view once I pass through the flood wall. By the way, if modern technology ever devises a transparent flood wall, the view would be oh so much more natural and enjoyable. Still, it is quite a sight, as you can see for yourself. People are fishing, walking dogs, and relaxing on park benches. A couple is posing for their engagement photo shoot. Along the way I stop for a nosh and coffee at Etcetera, a sweet little business with a Lower Town and a downtown presence. Bicyclists don't even lock, and a group of teens is playing Scrabble outdoors. It is a slice of Americana.
The slice, however, is much more homogeneous than I find in more urban areas. I am not sure why
ethnic diversity
is not greater in this city of 25,000+, but it is noticeable. And the barges on the rivers are moving a lot of
coal
, which raises questions for a visitor, i.e., me.
Ah yes, time to think about all of these observations; of which I have plenty as I weave my 1/4-inch strands.