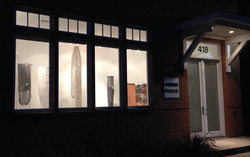 Sunday begins with news: an artist loses a daughter, one who is also her mother's muse. Shock, sadness, and a poignant moment in the community. I proceed with my residency, even while all our lives are now touched with grief.
At 1pm, I meet proprietor and ceramic artist Carolyn MacKay, who opens Stornoway Gallery for me while busily unpacking following a day with the art cart. It seems such a hassle, but Carolyn claims there is a rhythm to the process. Yesterday she made a sale via the art cart; the venture a bit more worthwhile.
Monday finds mud poet Michael Terra and logistics manager/spouse Victoria unpacking, having perfected their rhythm over a dozen years. Memphis was their latest destination; Louisiana the next. They are back in Paducah only an hour before I appear on their doorstep; but Michael and Victoria graciously usher me into
Terra Cottage
for a tour and cup of coffee. I appreciate the playfulness of Michael's relationship to letters and words ("Rtist" is just one in his alphabet cup series), and the professionalism of his craft.
After dark, the couple joins me and Rachel Biel for a private visit to view the installation at Studio Mars. Do check out Rachel's
TAFA
page (Textile And Fiber Arts is a web-based membership organization showcasing fiber artists and textile businesses). While we sit on the Studio Mars stoop in the tranquil October evening, Rachel draws my attention to paper artist Allison Svoboda on the TAFA site. I Evernote-clip this artist to my growing archive; inspiration at my fingertips.
Before the Terras return to their 1800s home/studio, I solicit their thoughts on my installation, especially the walk-in suspension. Artists always pose such good questions and make intriguing suggestions. "What if you add to the inside of the walk-in, offering a different interior personal experience than the exterior public one?" I'm letting that simmer and brew.
Students also offer thoughtful queries. Earlier in the afternoon,
Cody Arnall
, Artist-in-Residence at the Paducah School of Art and Design, accompanies his Sculpture I class for a tour of the installation. We talk concept, process, materials. And just prior to their departure - literally a one-block walk to the School - another gallery-goer arrives. Nancy Flowers, owner of Gallery 600, is following her frame shop assistant's directive to check out the "interesting" exhibit at Studio Mars.
And speaking of interesting, here's Michael's and Victoria's cat (actually one of several) dining in a highchair out of a "monstrous" bowl! Insert huge grin here - an actual one, not an emoticon.