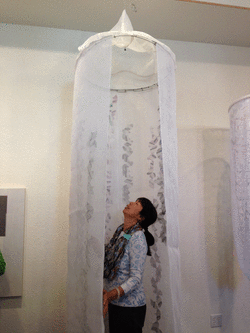 An artist is both worker and boss. Yesterday, the boss told the worker that "enough is enough." Desiring yet one more piece for Friday's exhibit, I create a collage and spend the day sewing it together. Early in the process I consider discontinuing the effort but press on. You guess correctly: it's disastrous and it's in the trash.

Rather than mourning the loss of time and effort, I acknowledge the inherent lessons: listen to my inner voice, persistence does not always pay off, letting go often does. If every artistic effort results in a successful outcome, where does discovery emerge? If perfectionism is a paramount goal, where does creative joy enter? Let's face it, we more readily share our triumphs than our tragedies.

I finish Monday's studio time ensuring that every monofilament tie-off receives a reinforcement of glue, that every strip of paper is adhered and secure. Tuesday begins with a bit of negotiating at the dry cleaners, but ends with positive energy following collegial visits to Pinecone Studio. Margaret Claus-Gray and Rosemary, (escorted by Lily Liu), were unable to attend last week's Paducah Fiber Artists meeting due to weather, but are in sunny Paducah today. We are all sharing our creations, oohing and aahing.

Then a visit by Judeen, who lives and works around the corner in a building she designed as part of the Artist Relocation Project a decade ago. It's beautiful, and for sale, as are a variety of objets d'art, books, tools, and more. To say Judeen is prolific is an understatement: fiber art, stained glass, and ceramics. She delved into ceramics with a passion, partaking in the senior benefits at the Paducah School of Art & Design - tuition waived. Give her a call (270-444-9525) to set up an appointment, although you are forewarned; you will not leave empty-handed.

Although the sun has set, I want to extend a special thank you to Char Downs, owner of Pinecone Studio, who is a great listener. Especially as she deals with her own curatorial demands, readying for "Phantasmagoria E," a happening where viewers discover artwork via flashlight in the darkened Studio. Select artists are creating works using one ordinary item from the Old E Hotel, premiering anonymously on - when else? - Halloween. Works are for sale, participating artists are featured in an accompanying book, and the reception is Second Saturday, November 8. I'm working on a creation for this event, but I cannot tell you more...it's a secret for now!