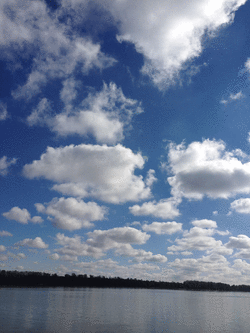 Ideal weekend; rapturous sky, sunlit butterfly, Halloween decorations appear in windows, and pumpkins on doorsteps. On Saturday afternoon, three walk-ins (thank you, Victoria, for sending them to Pinecone Studio) visit from Indiana, Missouri, and Florida. At 11pm, Freda Fairchild appears at the studio door, enroute to her own working/living space. We chat about, what else, our current art explorations. I share a few magazines that I've finished - Surface Design, and Fiber Art Now, and then Saturday rolls into Sunday.

I decide to utilize the oval embroidery hoop as an armature for yet another suspended artwork. The intensity of my daily routine reminds me of my college days in 2008-2009, consistently staying up until 1am and 2am. It's burnout mode, but I sense that this is just the kindling for a bonfire of creativity. Ah yes, I can hear my Greenville friend, Alice, asking "why do you want to do an installation?" and just the other day a Paducah artist voiced the same query. My answer: I want to give you an art experience.

Off the wall, out of the frame, moving in the air. Perhaps it's a bit like theater, casting players and directing. Or a concert that has a finite beginning and end, leaving only a memory. I could continue the analogies with dance and poetry, but you get the idea.

So, the latest piece - note the binder clips are serving a temporary function - is quite difficult to convey via photography. The layers are lace curtain outside, negative gingko leaf shapes inside, and several strands of gingko leaves suspended in the center. The gingko leaves are digitally printed details from my "Edo Influence" collage/cradled wood series. The negative shapes are actually the carrier-sheets for the die-cut gingko leaves. There are over 70 leaves in this piece, with 40 of the 8-1/2x11-inch carrier-sheets sewn together. I like the effect, but you need to see it in person.

All of those numbers remind me of a question Paducah Sun journalist Laurel Black posed: "Do you find the work tedious, or contemplative?" It is both. I wonder if there is an artist who has figured out how to better manage or avoid this necessary step? Other than sending one's work to China. That's a conversation for another time. For now, sleep!