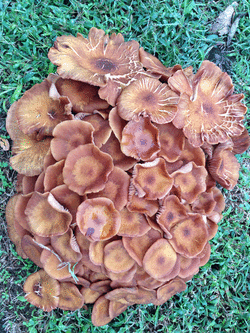 Indulge me in the mushroom pic; I can't resist the sculptural quality and the fact that it so unassumingly exists near the sidewalk on Jefferson Street in Paducah. It's a quiet discovery that makes this overcast day magical.
The
Paducah School of Art & Design
, West Kentucky Community and Technical College, casts its own magic. Thanks to Carrie and Gustavo, I am warmly welcomed as I drop in to visit both of the School's locations: Broadway and Madison streets, the former anchors downtown Paducah while the latter anchors the Lower Town Arts District. Pristine, naturally lit and well equipped, the newer Lower Town location boasts studios for ceramics, small metals, sculpture, wood, metal fabrication, and a foundry. Dark but workable, with a set of creaky stairs, the older downtown location currently houses the drawing and painting program. I say "currently" because the doors to a rehabilitated Lower Town building will open in 2016 - literally across the street from the arts district PSAD - for students pursuing drawing, painting, photography, visual communication and multimedia.
Here's another part of magical: nontraditional and traditional students work alongside each other and, for those age 65 and older, tuition is waived. I might have to move here.
Yes, I am working in the studio on the walk-in piece...until 2am yesterday. Well, technically, today. Except that it's 1am, so it's actually Thursday. Never mind.
I find that living with work in progress, greeting it daily with fresh eyes, and listening to visitor's reactions is a good recipe for creative brewing. And I have to be honest with you that today I am struggling with the energy of the work. Is it too produced? Is it now missing that "raw" quality so palpable in earlier pieces? Installations are at a scale that require either large elements or a large quantity of elements, that demand engineering and logistical thinking as well as conceptual. Where to find the balance and the truth in the midst of it all?
While I ponder all of this, an invitation to a delicious meal at the home of Bill and Patience Renzulli, amidst their seven (!!) whippets, is such a welcome addition to the day. And when I mention that I plan to visit Paducah again one day following my artist residency, Bill offers to cook pasta.