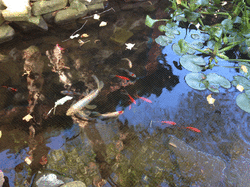 Let's begin with clarifications:
1) The link to the Artists U site for downloading Andrew Simonet's book, "
Making Your Life as an Artist: a Guide to Building a Balanced, Sustainable Artistic Life
," in yesterday's blog, is not behaving; use this link.
2) Naively, in discussing river commerce, I referred to a towboat as a "tugboat"; thanks to Char Downs' husband Jay Downs Siska, a teacher with the
Seamen's Church Institute
, I stand corrected.
Now, about today. Deep breath. I am taking several as I recover (especially my index finger) from xacto-editing my dictionary weavings. I daringly trim while ensuring that the cuts don't compromise the structural integrity of the strips. Tedious, labor-intensive, and exhausting but the resultant effect makes it worthwhile, opening new portals of visibility. Yes, I promise a photo later.
When it is time for a sanity break, I take my hour walk-about, always being drawn to the water. Although, honestly, I only need open the back door at Pinecone B&B here in Paducah, Kentucky, to hear the gurgle of flowing water and catch the beauty of a koi pond. Greenville, SC, artist
Tami Cardnella
specializes in capturing koi. It's a popular subject; one commercial website displays "2,180 koi paintings for sale." I'm overwhelmed, but not with my firsthand experience of the pond outside the door.
Speaking of koi and of dictionaries: growing up in the household of my family-of-origin, dinnertime was constantly interrupted by my bursts of curiosity. I'd dash off to procure the dictionary or encyclopedia, in between bites, to sate my desire for knowledge. It's a standing family joke. Laugh if you will, siblings, but I am still curious and am now deconstructing dictionaries to create art. Thanks to the internet, I have a dictionary and an encyclopedia just a few finger taps away. So, of course, today I begin researching koi but end up reading about Japanese aesthetics, including the concept of yūgen. Yügen is profound grace and subtlety. Ooh, I like this. Among the concepts in my previous series of work are wabi-sabi, ethereality, and layering. In considering an underlying element in all of these concepts, in how I express these concepts in my work, I do believe that yügen is present. Profound grace and subtlety. Yes, I really like this.