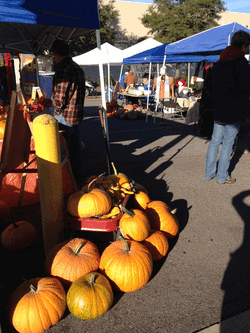 Bookends to Saturday in Paducah: crisp and cold at the Farmer's Market this morning, nestled between The National Quilt Museum and the riverfront - a nice way to start the day, and camaraderie around
Anita Stamper
's dining table, in her turn-of-the-century Lower Town home/B&B - a delicious and delightful way to segue into the night. I stay up way too late working and reading to post before the clock strikes twelve.
Sandwiched between these outings is the tedious task I have set for myself: removing blue guide-threads on a swath of rug-hook backing. Sturdy, composed of waxed cotton, the grid provides yet another perfect armature for one of my suspensions, where translucency - muted transparency - continually captures my attention. And now that a date, October 24, has been penciled in for exhibiting my installation at Studio Mars (literally across the street from Pinecone B&B), my adrenalin has kicked in.
Barely a block away is the residence/studio/gallery of
BiLan Liao
. Tonight she is hosting a reception for the exhibition "8 inches of separation," a horizontally-oriented installation of a diverse body of work. Here is a photo of the artists: Char Downs, Paul Lorenz, BiLan Liao, and Maureen Ursery (Michael Crouse not pictured). And, yes, they are enjoying the event as much as it appears!
Another brief walk, and I am at Anita's home sharing a potluck dinner hosted by the Paducah Arts Alliance. In addition to attending
PAA members
- Freda Fairchild, Mitch Kimball, Randy Simmons, and Paul Lorenz, are Mitch's spouse, Shand, their bright toddler, and several small canines. Nothing pretentious, everything elegant and welcoming. Love it, and looking forward to a firing in Mitch's kiln, which I understand as a real community event. I've directed you to the members' profile page for info and links, which do better justice to these artists than I can here.
During the course of my four days in Paducah, I am fascinated to see how the installation idea I arrived with now demands a more site-specific response to this particular town - its energy is so different from urban settings. PAA members share that this is a typical and appropriate experience for their artists-in-residence.
Which leads me to share how it is that I can walk out Pinecone's front door, turn either left or right, and be within walking distance of dozens of artist residences/studios/galleries: the
Artist Relocation Program
. Begun in 2000, the program is now a national arts and economic development model. Best to point you to the website to tell the rest of the story. By the way, there is one building remaining.