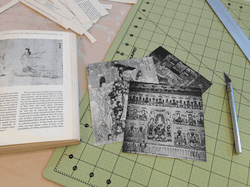 Last night's rain left Paducah with a freshly-scrubbed sensation; blue skies and sunshine abound. I want to pinch myself, "Can Paducah really be this wonderful?" - guess so. It's the quality of community here, the everybody-knows-everyone and cares, and the optimism. This is the place that survived multiple floods, but has moved from surviving to thriving. Paducah Arts Alliance member and over 20-year resident Rosemarie Steele is an exemplary ambassador for this rivertown. She starts our day together with lunch at Shandies, owned and operated by two culinary students, then a quick dip into Victorian Parlor Antiques, followed by the Paducah Convention and Visitors Bureau. Not because I'm the recently-arrived newbie, but because Rosemarie was on staff for 17 years as Marketing Director and is über proud of the "City of Crafts & Folk Art," a designation unique to this UNESCO Creative City - and one she helped facilitate. There are only six "craft and folk arts" cities worldwide; Santa Fe is the other US designee. Very cool.
Rosemarie introduces me to workers, volunteers, friends, and artists, including
The National Quilt Museum
's CEO Frank Bennett. Frank explains the intent of the center section of the museum: to introduce visitors to a variety of quilt techniques - from hand to machine stitching, traditional to contemporary. The museum is perfectly sized; another dozen quilts and I'd probably be on overload. With its two changing side gallery exhibits, and access to an archive of 400 quilts, the museum is worth repeat visits.
One more stop: Market House Theatre's black box space. Rosemarie, with her creative grey cells working full speed, brings this venue to my attention as a possibility for an installation exhibition at the end of October. A black box theater: I can see the possibilities of the visual contrast with my free-rotating, mostly white suspended columns, a possibility I had not considered previously. Exploration for the best venue match promises to be ongoing. I love it when creative thinking flows, and Rosemarie is a virtual fountain. Or, in this town, I believe I should say "river."
As my Greenville, SC, artist-friend
Rebecca Johnson
emailed yesterday: "Sounds like you are already making good friends and enjoying the town. Go be creative now!" No problem. I do have one worry though: my car must be feeling neglected, as I haven't driven it since I arrived, this city is so darned walkable.