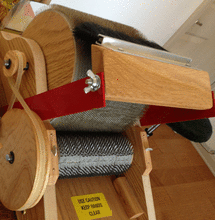 Only 2 hours to uninstall today, compared to the 5-hour install last week. Disassemble, roll, pack, and store away until June 2015 when the artwork makes its debut in Greenville, SC. In the interim if you become homesick for my art, the piece "Postcards from Paducah," donated to the Paducah Arts Alliance, will be on display somewhere here in your hometown. Enjoy!
Before I depart Studio Mars, Paul Lorenz gifts me with CDs and a booklet (essentially liner notes) for
Line and Sound, The London Recordings and Merida Sessions
. Although intended for my musician son, it will first be read and previewed before sharing. In the process of learning more about Paul's foray into music, I find myself signing up for yet another site online: Tumblr. Which is probably the first of several online sites I'll be joining, as I've been taking notes on the use of social media from the October/November issue of
Professional Artist
.
Following the uninstall, visiting
Lily Liu
's studio is a welcome outing and, while for a week I've been admiring her creations from the street-side of the window, it is even more rewarding inside. I consider her (and Helene Davis's) transition from ceramics to fiber, hard to soft media, a fascinating one. Lily's background is in clay - porcelain to be exact, although now she creates fiber vessels. Wondrously organic vessels crafted by tying together miniscule fabric-strip-rolls, often thousands of them. You have to see Lily's work to appreciate it fully.
In her studio, when the tabletop wool-combing machine captures my attention, Lily graciously demonstrates the hand-operated device. In part, what has drawn me is its assortment of "pointy things." Forgive me for this phrase as it is one my family uses to describe sharp objects, ranging from cat teeth to wood rasps to, well, now a wood-combing machine. This tool is quite efficient; Lily handles it with proficiency and ease. She then incorporates the combed wool into women's wraparound scarves that she fashions.
The sun is setting, time to meet the very first artists to participate in Paducah's Artist Relocation Project: Charlotte and Ira (Ike) Erwin of Working Artist studio. Several rooms spill into one another, offering art supplies as well as Charlotte's marbling on fabric and paper, and examples of Ike's bookbinding. Including a ridiculously tiny book-within-a-book that demands me to suspend disbelief in the limitations of bookbinding. Before leaving, I cannot resist a sample of Charlotte's craft, a fabric done in the "feathered nonpareil" style.
I am already homesick for Paducah, but I will be posting to the blog at least one more time upon my arrival in SC. Perhaps once there, I'll begin a blog, "Greetings from Greenville." I like alliteration, can you tell?