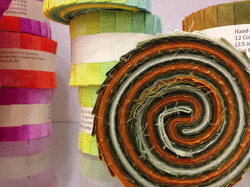 Unassuming on the exterior, once inside
Jefferson Street Studio
I am transported to another world. Helene and Bob Davis are the creative forces here; she with hand-dyed fabric and world-class quilts, he with beadmaking. Helene and I stroll into her garden, traverse through her various studios, and converse until I am a cup that is so full it is spilling over.
As we walk past her extensive art library, Helene plucks a favorite book from the top shelf on Irish-born/American-based oil painter Sean Scully. He is an influence, his career-long dialogue with stripes. Now she, too, using her beautifully crafted fabrics in quilts, explores the possibilities of stripes. I believe that I previously met Helene's quilts, in Schweinfurth Memorial Art Center in Auburn, NY. It would have been in their annual
Quilts=Arts=Quilts
several years ago; an exhibition in which Helene participates regularly. I love it when I am fascinated first with the work, and then with the artist.
I'd like to insert a segue that transitions from the wonderland of Jefferson Street Studio to the balance of my day, but it escapes me. The rest of my day is quiet, the kind of unobtrusive passage of time that usually eludes. It is absolutely this gift of time that is such a boon to my art life during this residency (in addition to a multitude of new friendships). Unfettered, uninterrupted, focused time, that rare commodity. I do not miss television, radio, or the contents of my mailbox. I do miss my family and cat. Ah, but the gift of time for reading art magazines cover to cover, for depositing ink in my sketchbook (although the pages show more art journaling than sketching), for digesting critical feedback on the art installation, for peering into the crystal ball of the future, and for the silence that allows creative nuance to seep inside.
In the evening, I flash back to Helene's cookbooks; the ones she retrieves from the shelf but the recipes of which she does not necessarily implement. The artist finds it pleasurable reading. What more can I say, as this is too cool for words!