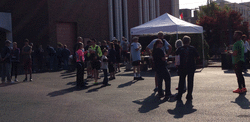 One month, one-half tank of gas. That's the "easy" part of Paducah living. I set out as a pedestrian again today because it's too gorgeous to remain indoors. Here's a snapshot: an end-prostate-cancer fundraising rally, sunshine on the late Sarah Roush's tiles downtown, the "art carts" setting up in historic downtown, the two remaining available Artist Relocation buildings, and the homes/studios of artists Linda Ogden, and Maureen Ursery. And finishing my piece for Char Downs' "Phantasmagoria" happening.
Let me expound a bit on today's snapshots. According to
Zero Cancer
, "one in seven American men will be diagnosed with prostate cancer in his lifetime." To learn more about the organization's efforts to "create Generation ZERO - the first generation of men free from prostate cancer," visit their website.
Sarah Roush
's tiles brighten the facade of the downtown Paducah School of Art & Design, and across from MarketHouse. The artist retains a posthumous virtual presence online; everyone I've encountered speaks admirably of her, softly and with sadness. Not having known her, I am merely grateful for her tiles.
The
Artist Relocation Program
offers a property at 421 North 5th Street that can be acquired for $1 and an accepted proposal process. My guess is that you'll also need hundreds of thousands of dollars for rehabilitating this abandoned structure, even with the financial incentives and historic tax credits. The Lower Town buildings that have been transformed are noteworthy, as are the new buildings constructed on Artist Relocation lots.
The "
art carts
" are, indeed, wooden push carts used by local arts/crafts vendors for sharing their wares at the gazebo in downtown Paducah, weather permitting. It appears to be a component of Paducah's UNESCO creative city designation. The carts are wheeled out at Noon; I'm too early...another day.
If you're looking for real estate in Paducah, I know of another house for sale: the home/studio of sculptor Linda Ogden (pictured), perhaps best known locally for her design/construction of the black granite and bronze
Korean War Memorial
. She is yet another of the prolific artists in Lower Town. As is
Maureen Ursery
, part of an informal artist group who exhibit together and dine together monthly. I was fortunate to be included in their gustatory gathering following my installation opening. Good food, interesting conversation.
Did I mention that I'm packing my mental suitcase with as many memories as possible during this final artist residency week?