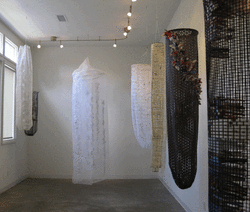 If you missed the opening of my installation at Studio Mars, you missed the delicious homemade coconut cake with hibiscus sauce. While the cake has disappeared, the artwork remains through Tuesday, but is uninstalled Wednesday. Then it's time to disassemble and pack the suspensions for a return journey to Greenville, SC, where a number of the pieces will reappear in a 2015 exhibit. In fact, the director of Greenville Technical College's Riverworks Gallery just set a mid-June date for my installation. I'll share a "Postcards from Greenville" blog with Paducah when it premieres!

I understand this is a good turnout for a Paducah Arts Alliance exhibit; I count more than three dozen gallery-goers. Some are following this blog, others saw the Paducah Sun article or the Facebook posting, and a few are just walking down the street. The response is positive, and this Artist-in-Residence is encouraged.

What I find interesting is the difference in tactile response to artwork that hangs on the wall versus artwork that dangles from the ceiling. No one touches the cradled wood pieces on the wall. But there is little hesitancy, or none, with the suspended pieces. Admittedly, I am surprised. Although I create the suspensions with durability as one factor, there is a delicacy in my work. Okay, I do intentionally invite attendees into the walk-in piece.

Personally, I find that receptions are the most challenging time to view a show's artwork: eating, socializing, straining to be heard above the crescendo of conversations, bumping (literally) into people, attempting to remember names, red wine's potential to spill on pristine surfaces, chocolate fingertips looming. One young man mentions that he'll return in the quiet to experience the installation. Agreed.

So, if you would like to see the installation, please give me a call (864-360-8652) to make arrangements. Before Wednesday. Thank you, Paducah!