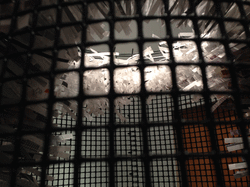 I'm exhausted, in a good way, following 5 hours of installing my exhibit for tomorrow's opening at Studio Mars. A big thank you to artist and Paducah Arts Alliance-member Paul Lorenz for loaning his beautiful gallery, to Rosemarie Steele for a helping hand and for such excellent communication, to Anita Stamper for reception food, and to all the PAA members. The interview by Laurel Black appears in this morning's Paducah Sun, page 7B; the word is out. It would be great to have a big turnout. The energy is always so juicy.

I meet one person this morning, Betty Martyn, who recognizes my name from the newspaper article. She is a member of PAPA - Paducah Area Painters Alliance - who is gallery sitting their downtown location. We chat, and she shows me her work in watercolor and acrylic. I love the way Betty describes her feelings about each medium: watercolor makes her feel "softer" while acrylic makes her feel "bolder." The work absolutely reflects this. During Betty's show-and-tell, she notices the absence of one of her pieces. Mild panic morphs into elation, as the explanation is documented in the PAPA log: "sold." Congratulations, Betty!

The artist residency is a fleeting one. When I first arrive, I hear, "We're so excited that you're here," but now that I am into week four, the question is, "When are you leaving?". Too soon.

This pic is a teaser from my exhibit. It's the interior of "Postcards from Paducah" - the piece where I print my blogs, then shred and insert the strips into a polymer grid. When the light strikes the top, it glows. Come see for yourself.