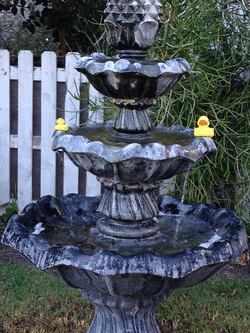 Rubber ducks adorn an ornate concrete fountain, gingko trees line a bank drive-through, and turquoise pods nestle in magenta sepals. Just another day in Paducah, Kentucky. In full disclosure, the rubber ducks are a surprise sighting during tonight's walk; the trees are sought out, following a tip from Judeen; and the botanical specimen is plucked from a fragrant bush by Anita in her garden. It continues to feel magical here.

Today, Pinecone Studio has visitors from "the boats." The American Queen and Queen of the Mississippi dock in the Port of Paducah from May through November. Then a chartered bus delivers sightseers to Lower Town, where they can walk into any gallery sporting an "open" banner. At least a half dozen individuals appear, haling from Louisville to Australia. It's a bit like Second Saturday.

In between these visits, I complete the piece, "Postcards from Paducah." Then it's time to refresh "the little grey cells" - to quote Agatha Christie's character Poirot, which is when and where on my walk, I encounter rubber ducks, gingko leaves, and turquoise pods. There is also a shop offering art, art supplies, and craft workshops. Ephemera is a 50th birthday present owner Kristin Williams bestowed upon herself, and is just across the street from the Paducah School of Art and Design. She features local artists: quilts by Rose Hughes, beads by Bob Davis, and a charming alphabet book on Paducah illustrated by Bill Renzulli, Gay Spierbahn, and Stefanie Graves, to name a few.

Time to consider tomorrow: installation day at Studio Mars. It is always a pleasant surprise to see the individually-created pieces intentionally located together. And so begins an entirely new dialogue. Let the conversation begin!