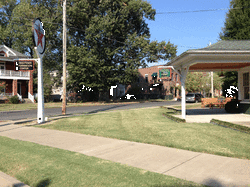 I am just returning from a walk in downtown Paducah, Kentucky: a bagel at Kirchhoff's, a browse at Antique Galleria on 4th & Jefferson (where the owner shares TMI about her personal life - oh well), Paducah School of Art & Design/PSAD, the Floodwall Murals, and the Yeiser Art Center where I meet Paducah-native
Ron Fondaw
- currently residing in St. Louis - installing an invitational retrospective exhibit. While at the Center, I purchase the "
Lowertown Paducah
" DVD. And upon my return to the Pinecone B&B - see pic below - in the Lowertown Arts District, I find that the shoji paper I ordered has arrived.
Earlier today, I literally walk across N. 7th Street and turn the corner onto Madison Street to meet neighboring multimedia artist
Freda Fairchild
, who operates Studio Miska and is president of the Paducah Arts Alliance, the host for my artist residency. The energy generated when artists begin to share their background, their work, their resources...well, it is palpable. This is true in my encounters with artists
Char Downs
and Freda Fairchild, who also introduces me to
Paul Lorenz
in his gallery, Studio Mars. Paul has recently returned from an artist residency near Beijing, China, with a stunning collection of ink and gouache brushwork on rice paper, and many a fascinating story to tell.
Paducah is a unique river-town-not-quite-city, but subtly hip and quietly energetic. One of those hidden treasures I cannot wait to share. I feel replete with my day's experiences, so, if you'll excuse me, I have a DVD to watch.