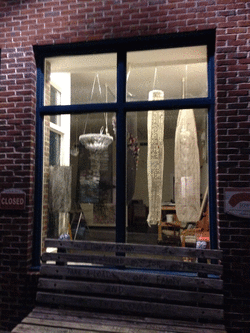 It is always good to be interviewed. What I hear is the current conversation in my mind, where in the course of the interview, I also "overhear" some previously unspoken insight, either from myself or the interviewer. Laurel Black of the Paducah Sun leaves the studio with notes on my discourse, responses to questions, and numerous photos that are due to appear in an article in the local newspaper next Thursday. This was a good part of the day.

Then there is the other - not the grocery shopping, by the way. It's the struggle to enclose the top of the walk-in installation piece. It's also what seems like a waste-of-time attempt to move another piece to resolution. Cut, combine, disassemble; all the while knowing that I should walk away from this artistic dialogue that feels more like an argument, or perhaps just a tiff. "Why won't you resolve?" "What do you need?" "I should just discard you!" But I resist the call of the koi pond outside, and try yet one more potential solution for my problem child. While I am in process, I hear voices outside the studio, in the dark.

I think to myself that the comments must be emanating from passersby as they admire the fun park bench in front of Pinecone Studio's window. No, two women are not looking down at the bench but are heads back, eyes wide, and mouths exclamatory. I realize they are viewing my suspended installation pieces. I invite Erica and Monica inside (if the "c" should instead be a "k," I am sure they will understand my misspelling) where it is now 6:30pm. Erica, a Lower Town resident, informs me that she was drawn across North 7th Street to take a closer look. Monica, celebrating her birthday but approaching her parked car, is also curious. Their enthusiasm bubbles out into the studio air and transforms my earlier artistic funk.

I suspend the revamped problem piece, perhaps finally resolved, and decide to venture through the studio door. I need to see what captured Erica's and Monica's attention. My attempts to photograph the nighttime scene are blurry, and my vision will never be the "first time" experience that you enjoy, but here are the pics anyway.

Thank you, Laurel, Erica, and Monica - you made my day.