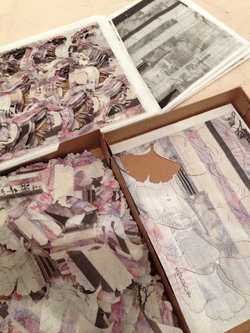 Sunday in Paducah: a stroll with an artist and her dog to the river, quiche at the local coffee shop, several visitors to the studio, a phone conversation with a Rochester, NY-based artist, and the ongoing work. Including separating diecut gingko leaves from their pages. Let me explain. To date, all of my signature templates - such as the gingko leaf and butterfly - are hand-traced and hand-cut, literally hundreds of them. However, in order to utilize thousands (instead of hundreds) of these elements in my installation work, I need to change my strategy.
Over the past month, I've been communicating with Laser Cutting Shapes, an Ohio-based company that accommodates fine art cutting. The day before I head to Paducah for this artist residency, I send a box of 100 pre-coated and preprinted sheets of shoji paper to Laser Cutting Shapes. Ten days following my arrival, I receive a box of 1,000 gingko leaves - approximately 3-1/4 x 4-1/2 inches each. My digits are dancing for joy. One little catch: the 12 leaves per letter-size sheet are attached via eight flashing junctures and require extrication. All 1,000 of them. Still, it beats the handiwork, and there's a bonus as the sheets themselves are now negative leaf silhouettes. All the more to work with.
Oh yes, I locate a few royalty-free photos of the river in my town, Greenville, SC (population 61,000), to share with you. Although the
Reedy River
was once a commercially viable waterway - as I hear the Tennessee and Ohio rivers referred to - it is recently transformed into a downtown tourist attraction. The Riverworks Gallery, where in 2015 I'll share the fruits of my installation investigations from this residency, sits on the Reedy River's edge.
Let my clarify: your river town, Paducah, KY (population 25,000), is the setting for the inaugural "sharing of the fruits of my installation investigations from this residency." Do mark the calendar for Friday, October 24, 5-7pm, at Studio Mars. Come, see the
gingko leaf
, a symbol of longevity, hope, resilience and peace - sentiments I wish for the residents in both of our river towns.