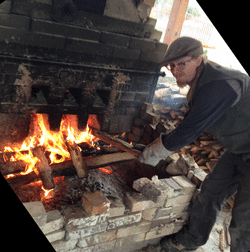 This is a birthday to remember. Bittersweet because it is a first without my Mother, who died less than 2 months ago, and because I am 481 miles from my husband, son, and cat. Bountiful because the artists of Paducah are open-armed, and the art life is pulsing.
I'm driving around the corner this morning and there is Anita Stamper, hostess of the Paducah Arts Alliance dinner last Saturday night. The very same Anita who intuitively baked a coconut cake without knowing I am nutty about coconut. We chat in such a friendly and easy manner that I almost feel like a Paducahan, after only 2 weeks.
Now it's Noon, time to open the Pinecone Studio doors for Second Saturday. Before the close at 5pm, Char Downs and I will welcome over a dozen people, visitors from St. Louis, Atlanta, and down the street. Outside, the air is humid, occasionally wet, overcast and cool. However, at S&M Studios - metalsmith/jeweler
Shand Stamper
("S") and ceramist
Mitch Kimball
("M") - the wood-fired soda kiln blazes, providing a toasty and welcomed warmth. I'm invited to circle back to the bonfire tonight, as the firing is anything but a solitary venture; it's a community event. Mitch just might be up after midnight tending to this aspect of his craft.
Bill Renzulli
lives and works on the next street parallel to North 7th, where Gallery 5 is also open for Second Saturday. I am particularly drawn to his
clay monotypes
, a process best described in a website to which Bill refers me. When we begin discussing my work, he promptly posts the "will return by 3:30" sign, locks his studio door, and proceeds to Pinecone Studio.
Back at Pinecone Studios, a relatively new member of the Paducah Arts Alliance, watercolorist
Stefanie Graves
, drops in, and then invites me and another PAA member, Rosemarie Steele, to her studio a mere block away. You must read the website intro to appreciate her studio's name, Cowango. And I dare you not to smile.
What's not to love about the immediacy and accessibility of the arts in Lower Town?
Time for the opening of "Circles into Snow: Paintings & Watercolors" at
Ruth Baggett Gallery 1025
, for which a short auto drive is recommended. What a perfect venue for the work of longtime friends and colleagues
Ursula Schneider
and Ann Provan (website under construction). One gallery room is dedicated to an exhibit of Ann's work on paper and Ursula's on a multilayered substrate she invented; the other room to an installation - Ursula's suspended and Ann's wall mounted. A classical guitarist adds to the ambience of the reception, which is well attended. But Rosemarie and I missed the artists' talks. I make up for this loss by querying both artists, together and individually. We artists want to know everything: process, materials, innovations, concepts, the past, the future. Ann and Ursula are patient, generous.
This might be a good time to wander down to S&M Studios, to see how the firing is going, before the clock strikes midnight, before my official birthday is over. Thank you, Paducah, for a birthday to remember.