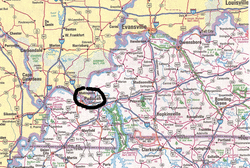 After an 8-hour drive covering 481 miles, I arrive in sunny Paducah, Kentucky, to begin my month-long artist residency. But before leaving Greenville, South Carolina, I learned that Paducah has a bit of an image issue. Paducah? "I've heard of it. Where is it?" "Ah yes, the National Quilt Museum." "I remember reading about the school shooting." Paducah is in the northwest corner, at the confluence of the Ohio and Tennessee rivers. I plan to visit the museum. And I had to research the 1997 shooting. But I anticipate that my yet-to-be-formed images of this river town will be positive and help reshape the conversation around Paducah.

I was also told, by the director of the Metropolitan Arts Council in Greenville, SC, that I would enjoy Paducah. Barely 3 hours into my stay, this is already true. The Paducah Arts Alliance invited me here, where I am lodging at the Pinecone B&B, and will share studio space with artist Char Downs. Both venues are located in the Lowertown Arts District, a revitalized neighborhood easily accessible due to a plethora of directional signage. Good job, Paducah.

With the best of intentions, I plan to blog regularly in order to share my experience of not only Paducah, but of the artists who invited me, and the evolution of my installation work - the focus of my residency. For now, however, I feel the miles catching up with my drooping eyelids, and will bid you adieu until the next post.