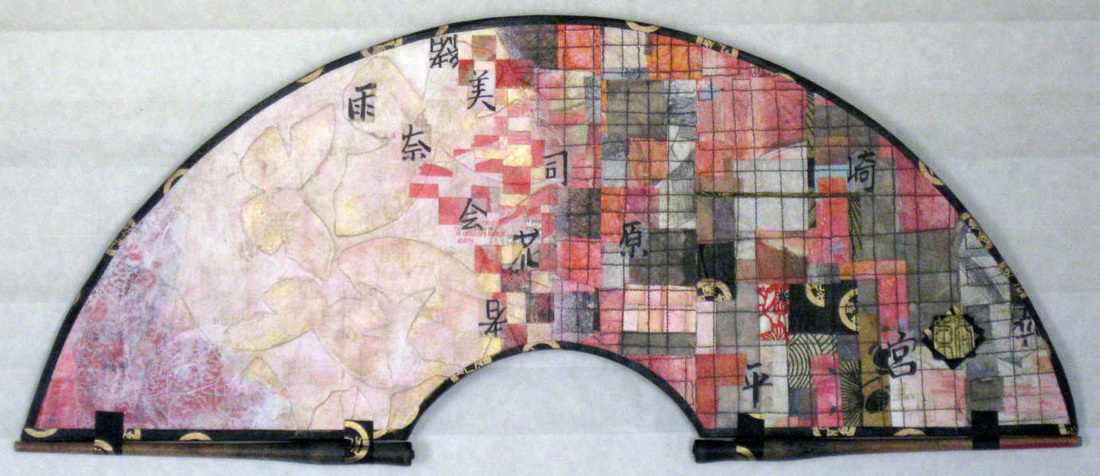 I feel a bit defensive about this fan. How can it possibly be considered serious art? The other fans I create are in palettes grounded by non-colors black and white. This one is, well, pink.
Neither the fan nor the pink is a statement about femininity or breast cancer awareness. My fan contains within it personal references that unite two divorced people. The collaged Asian calligraphic elements - the black sumi brush characters - are studies that my octogenarian mother produced in an Elderhostel class decades ago. The worn wood handles - which once housed various nibs to hold India ink - anchoring the base of the fan belonged to my late father. Perhaps, subconsciously, the pink is the blending of red and white, of parents. But that, too, is not the intention.
Andy Warhol uses a popping pink background on one of his "Marilyn's." Jeff Koons uses pink in his inflatable sculpture "Tall White, Pink Bunny". Pipilotti
Rist
bathes her installation "Tender Room" in pink. Takashi
Murakami
makes the macabre cute, a white skull contrasts with a bubblegum pink background. In 1983, Christo surrounded 11 islands in Biscayne Bay, Greater Miami, with floating woven polypropylene fabric - in pink. And so it goes through the art historical ages, recognized artists using pink: Picasso's red period, Matisse's "
Pink Nude
." You can even purchase a tube of Fragonard pink oil paint.
Smithsonian
ran an article on the gender equation of pink (and blue) but what interests me, more than the social aspect, is the basic argument surrounding the legitimacy of pink as a color. There are
blogs
about this nonexistent wavelength and there are
books
.
So why do I feel defensive? Squeamish about showing this particular fan? After all, pink occurs in nature, naturally. Cherry blossoms, roses, insects camouflaging themselves in pink, and pink flamingos. Traveling outside my own culture informs me that, for example, in the Thai color chart pink is associated with Tuesday. The bottom line is the free association and conditioning that I, as an American, have to consistently dismiss in order to encounter this new fan without hesitation. Then again, Thursday is Valentine's Day, spring is "around the corner," and pastel colored eggs will soon be dancing before my eyes. Huge task but not insurmountable. Perhaps the irony in writing this blog, in processing my thoughts and feelings about the color pink, is that I have now influenced your experience of this very fan.
As one viewer expressed, upon seeing the fan multiple times, "It's growing on me." Pink is a color that can symbolize an embrace but which, apparently and inherently in art, is not a color easily embraced.