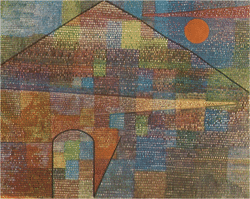 On my 20th birthday my Father gifts me a small book, "Klee." At the time I consider it a curious present, as I don't recall having ever mentioned this artist. I tuck it in my art library, trusting its intent will reveal itself to me over time. "Klee" by Robert Fisher was published in 1966 and gifted to me in 1968. It is now 2015, and I remain unsure as to whether I'm attracted to Klee's work all these years because of this book, or if the book simply reinforces a decades-long natural attraction to Klee's work. I believe it is more the latter than the former, because several weeks ago I select a 1985 book, "Klee" by Will Grohmann, from the library shelves.

Swiss-born and German-residing Klee was prolific but not long lived (1879-1940). Of the 9,000 works produced in 42 of his 61 years, he created 1,500 in the last 2 years of his life. I see a number of these works as conservation nightmares, such as the 1928 A Leaf from the Book of Cities done in oil on paper mounted on cardboard (I'm guessing the cardboard is not acid-free). Still, his prodigious output makes me wonder if the artist ever slept.

The multi-talented Klee was musician, poet, writer, and painter. Knowing this fact helps me immensely in seeing the synthesis he achieves in the two-dimensional world. His life spans two millennia, where the 19th into the 20th century witnesses a bridge from the neoclassical through Fauvism, Impressionism, the Blaue Reiter, Cubism, Surrealism, and the Bauhaus.

Even with these multiple influences, Klee defies labeling and manages to carve his initials into the history of art in a manner most unique. Yes, there were trips to Italy, to North Africa, to Paris, Egypt, and Spain, some inspiring more than others. Landscapes, letters, musical notation, portraits, dreams, architecture, animals...all rendered with a directness that bespeaks total trust in his artistic exploration. Pictographs like petroglyphs. Among my personal favorites: The Niesen, 1915; Once Emerged from the Gray of Night, 1918; Message of Autumn, 1922; Drummer, 1940; and Ad Parnassum, 1932 (pictured).

Grohmann, on page 26 of "Klee," shares the artist's thinking on the experience of viewing his work...actually, of viewing all art. Which is not to belittle the layman's perspective, as I hold a layman's view when partaking of a musical concert, a dance or theater performance, or even a team sport.

"The associations that are conjured up, Klee says, unfortunately cause many misunderstandings between artist and public, for the layman is always looking for similarities, the painter for underlying laws. Associations can be accepted by the artist only when they present themselves under their right names. Then he can complete the picture by adding something to it. The layman is always looking for similarities because he always starts at the end, from the finished form, not from the idea of creation, from creation as the beginning of all things. By contrast, the artist looks upon the optical image as a special case, limited in time and space, and prefers to go from the model to the archetype, to the 'primal ground of creation, where the secret key to all things is kept.' "

My curious 20th birthday present holds a secret key, but one which only Klee knows how to access and use. It is my task, as an artist born 8 years after Klee's death, to discover my own secret key and continue unlocking the primal ground of creation. Let the day begin!