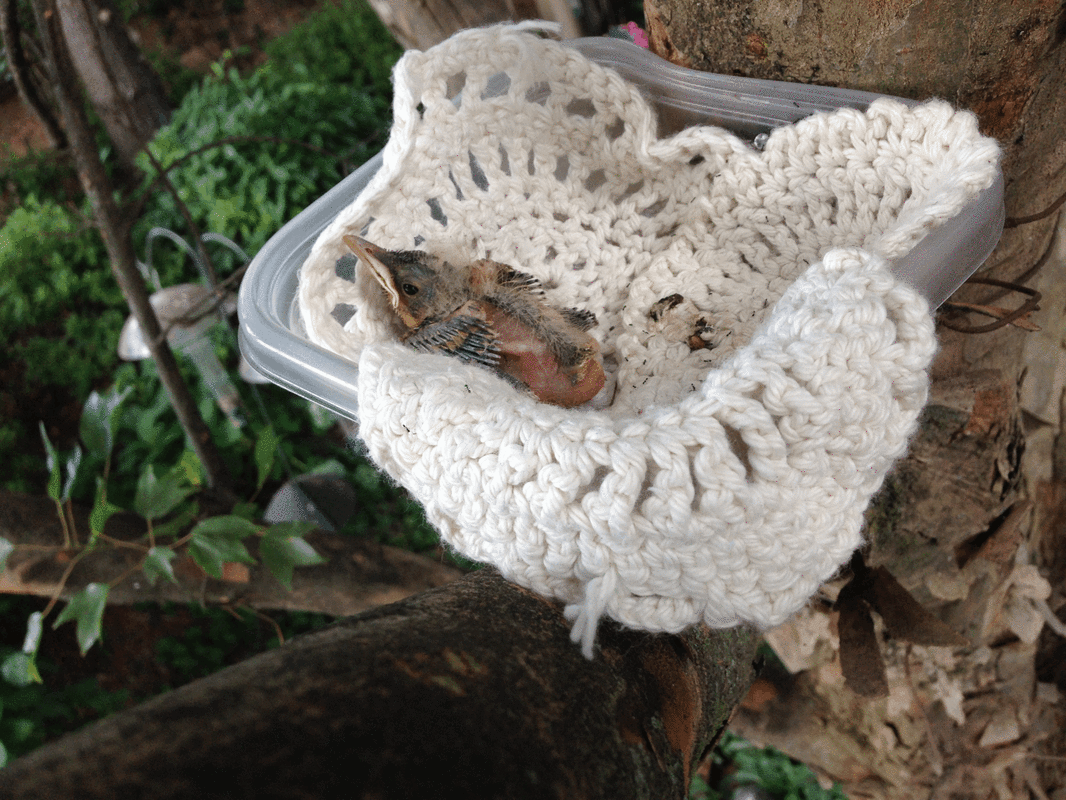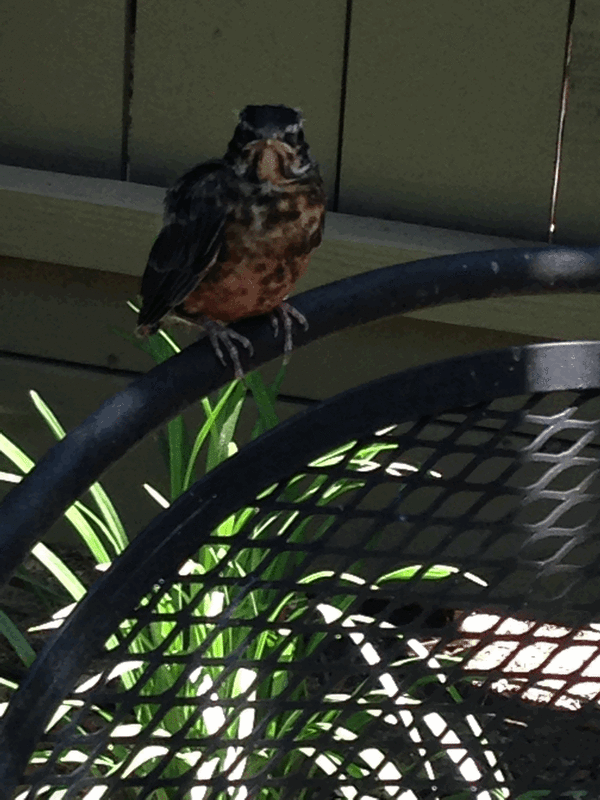 I step outside to water plants, only to discover a bird - a nestling - on the ground with its pink chest heaving ever so slightly. It's alive! This brief moment of revelation is followed with one of terror at my newfound responsibility. Leaving it underfoot in the dirt to expire is not an option. Between my surging maternal instincts and internet research, I devise a plan to craft a virtual nest as I cannot locate the actual one. I later discover the original nest and redeposit the robin among its two siblings.
The next day there are only two of the three nestlings craning their necks to receive wormy sustenance. In the ensuing days the birds jostle each other, stretch their downy wings, and morph into fledglings.
Nature observed. The progression of nestling to fledgling to adult makes me think of the categories assigned to artists: emerging, mid-career, and professional. Just a few years ago I checked the box next to "emerging," but today I check "mid-career." "Professional" artists, I think, are the ones I read about in the art magazines and online. In truth, I sense that I - perhaps we - carry all of these stages within myself - and ourselves - at all times.
I have discovered a number of installation artists about whom I do not care if they are emerging, mid-career or professional because it is the work that draws me in.
Lee Broson
: "Plastic Fantastic" at MassMOCA
"...large-scale immersive installations, which emulate 'natural' experiences for his viewers, based on the most ineffable elemental forces in nature — from air, fog, and smoke, to fire and the cosmos."
Thank you, Lee, for the word "immersive" which will now replace the "walk-in" descriptor I use for my installations.
Gail Grinnell and son Sam Waldman:
"Angle of Repose" at Gibson Gallery "...it is the tension between the past and the present that drives the final form of this installation. It is the voluminous amounts of delicate hand made work finding a point of stillness that constitutes the angle of repose." From the
artist's website
.
I love the photo of the work-in-progress in Gall's studio, and how she and Sam dialogue about the installation as bridging a generational gap.
Judith Olson Gregory
: "Taking Tea" at Burchfield Penney Art Center
"Taking Tea... consists of a minimalist 'house' constructed from used tea leaves and tea bags and echoes the tumultuous journey of tea from the mountains of China to the lace cloths of British aristocracy."
At a recent art opening in Rochester, NY, I spoke with artist Pat Wilder who asked if I had seen Judith's installation in Buffalo, NY. I did not, but would have loved to, as I've been following this artist's work for years.
I take heart in seeing the work of these "professional" artists who have ventured into larger arenas than I; I identify with them while in the same breath my "mid-career" artist self identifies with the fledgling. A part of me hopes that I will always stay tethered to the "emerging" nestling - seeing and experiencing life anew with every breath.