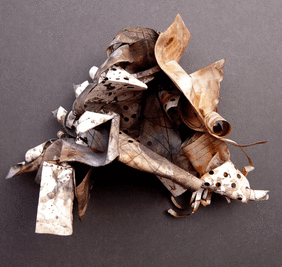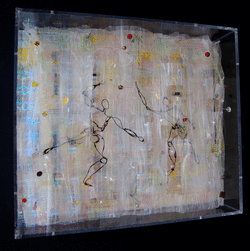 Naturally, following my last blog on the kitchen table, you are curious about the work of Rochester, NY-based artist Jane Notides Benzing. Above is a recent paper sculptural relief that is currently in a national show, "From the Earth: glass, clay, paper" in the
Tubac Arts Center
in Arizona. In response to the juror's question, "What is unique about the use
of paper?" Jane replied: "In my paper sculpture,
Diana Hunting in the Woods

(above photo)

,
the absence of paper -
bullet-like holes -
fulfills the narrative and gives a destructive and contemporary edge to an ancient story." The 12x12x5-inch piece is constructed of Arches paper treated with watercolor and ink, then coated with UVL protective varnish, and wired on the back for installation.
As I told Jane today, I am partial to her paper work as well as the Tubac Arts Center - a personal favorite, having visited there as an Arizona resident decades ago. Nonetheless, her acrylic-boxed work is intriguing in its own right. The photo below is reflective of a new series Jane is developing,
Playing in Clouds
, three-dimensional layered pieces encased in 14x12x4-inch acrylic. This one employs wires, sheer fabric, beads, and other media.
Of course there is no replacement for seeing the original work, so, if you're in Tubac within the next month...
Images provided by the artist.