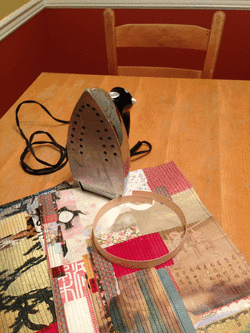 I am in between studios and yearning for a warm room with a horizontal surface; which brings me full circle to the good old kitchen table, a surface upon which many artists have launched their careers. Just ask them. Including Rochester, NY-based artist
Jane Notides Benzing
. Jane's work of manipulated-painted-paper wall reliefs originally captured my attention because we both work in paper. The artist has since progressed to plexiglass boxes containing not only paper but illumination and mixed media. Just how does Jane coerce her paper to bend into those voluptuous shapes? She offers to demonstrate...on her kitchen table.
My kitchen table is "distressed" naturally, from decades of moves, disassembly and reassembly, decorative attempts followed by subsequent paint removal, and loans to others. It is an understatement to say that it has character, but it is a workable stand-in horizontal surface.
Ironing wood? I discovered that birch veneer, designed for refurbishing countertop edges, is perfect for finishing cradled wood pieces. As it is thermally bonded, my "craft iron" - the classic heavy steam iron model - allows me to literally iron this edging. Hence, ironing wood.
Stitching paper? Yes, on an inherited 1960s model sewing machine. I love the textural element that sewn thread adds to paper collages, while also creating a more malleable surface. The stitching additionally serves as a visual unifier to the collection of prepared and found papers.
I have recently created a new work surface from a door mounted on sawhorses, but it is nonetheless reassuring that the kitchen table is always here for me.
Note: Jane Notides Benzing - see pages 20-21 of Metropolitan magazine's fall 2011 issue