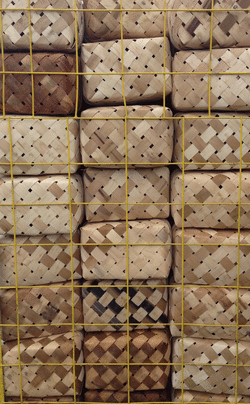 We are in the midst of an exercise during art camp when a child's voice rises above the chatter: "I love texture." So do I. The ordered bumpiness of woven baskets, the slippery sheen of silk, the halting roughness of sandpaper, the tug of thread in quilts. Later, when I stop at Fishers Orchard in Greer, South Carolina, I am struck by the texture of empty peach baskets and cannot resist a photo or two of the sculptural stacks.
There are enthusiastic moments during my month-long gig as art camp instructor, for example, when a child exclaims "This is fun." There are also comical moments that define our generational gap. When I pull up a YouTube clip of TV-personality Mr. Rogers who is showcasing a film on the manufacture of crayons, a young child asks "Who is Mr. Rogers?". A slightly older child responds, "Oh, he's the guy in the sweater." I personally miss Mr. Rogers' compassion for children such as these and his tenderness with life (although his slow-as-molasses style remains slightly irritating to my Northern sensibilities). There is also an uncomfortable moment following art camp when a parent confides that her own ADHD intrudes on art time with her similarly-diagnosed offspring, because she competes for materials.
Did I hear you sigh? Can you hear mine?
My spouse will say that I am "processing," and indeed I am. Working with 6 to 12 year-olds is a stretch, as my usual range is 13 to 93. What I strive for is an experience that is museum quality but accessible to the 6 year-old, as well as challenging for the 12 year-old. There are the inevitable bumps and band-aids, Disney movies and snack crumbs crunching underfoot, and grateful as well as arrogant parents. Additional challenges appear in the form of special-needs children, and glue sticks. Yes, glue sticks. The kids jauntily mimic my phrase, "This is history," as they hand me the gooey remnants of tube and cap. My aim for the garbage container improves daily!
Tween girls stitch for the first time during our art quilt exercise. With plastic needles and embroidery floss, they pierce the fabric with irregular novice stitches. The
quilters of Gee's Bend, Alabama
, are our inspiration. "I hope you love these quilts as much as I do," I exude to a rapt audience of the younger campers. Their wide eyes and an "I do" are confirmation.
I struggle to explain the mechanics of the printing press and three-dimensional lead type to campers who live in a digital world. Even the YouTube segment I've located on contemporary letterpress isn't quite enough information. When one of the campers suggests that it resembles the raised type on a typewriter, I am both relieved and full of wonder. Typewriter? Where did they learn about this antiquated technology? As we proceed with our printing exercise, the kids learn that old-fashioned type really does need to be set backwards and upside down. Mind boggling even for a former typesetter (me - computer, not lead).
During our time together, the campers and I look at artwork by Romare Bearden, Eric Carle, Mary Cassatt, Jim Dine, Robert Indiana, Claude Monet, Pablo Picasso, Man Ray, and Andy Warhol, to name a few. Not all of the activities focus on texture. We also delve into the worlds of collage, color, multicultural craft, and printing. But as I admire the baskets at Fishers Orchard and hear a child's voice echoing "I love texture," I discover all of my art camp moments weaving into the texture of life: bumpy, slippery, rough, tugging.