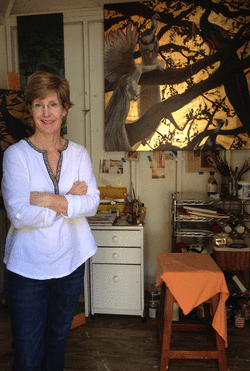 It is the Metropolitan Arts Council, along with various sponsors, that makes Open Studios possible for the juried-in artists - 129 this year, and that entices thousands of visitors to embark on the tour - now in its 13th year. To say that Open Studios is a massive endeavor is a bit of an understatement. Although Greenville's is among the many models of annual self-guided studio tours taking place in towns and cities, from Hawaii to the mainland, it is impressive and successful.
I am still wrapping my mind around the unique experience that comprised my October artist residency in Paducah, Kentucky. Due to a civic-funded Artist Relocation Project in 2001, targeted to upgrade the Lowertown neighborhood, the arts community is now congregated within an eight-block area. The artists live, work, and exhibit in their home/studio/gallery spaces. In Greenville, in areas such as the West End, the arts thrive but minus the "residential living" element. For a number of artists, studio is integrated into the home or tangential to it.
Ah, I have another glorious Sunday for visiting Greenville and Travelers Rest. Let the day begin in the residential studio of
Garland Mattox
, tucked into her Parkins Mill/Cleveland Street neighborhood. The size of Garland's studio belies the size of her large-scale oil paintings - a scale she prefers. For many artists, it is an effort to constrain the natural impulse to "go big" when creating a 12x12-inch showcase piece for the Open Studios exhibition at the MAC. I will count Garland and myself among these.
A short distance away is a former teacher of sculptor Allison Anne Brown, when Allison attended the South Carolina Governors School for the Arts. The home studio and garden of ceramic sculptor
Alice Ballard
reflect her respect for the natural botanical form. And who do I encounter assisting Alice with Open Studios? Michael Ziemer!
On the way to Travelers Rest, I am joined by my spouse, Joseph. A curvy-road drive through TR's countryside brings us to the metal-clad studio of a family of artists (recommended by Michael): Jim Campbell, Sharon Campbell, and Jamie Campbell. With Jamie's Dark Corner Glasswork pieces firing at 1,000 degrees and higher, and with Sharon's kilns firing her ceramics, the Campbell studios should be toasty this winter. Jim's paintings provide a visual backdrop for the 3-D work of wife Sharon and son Jamie, but Jim has crafted a 3-D piece of his own - a stringed instrument akin to a slide guitar but tuned to produce a Hawaiian sound. Once again, the multi-talented nature of artists surfaces.
I feel the need to return to my own studio, but I so want to share this with you that I'm sitting here writing instead. And sitting is not my usual stance in the studio! Welcome to "Glimpses of Greenville."