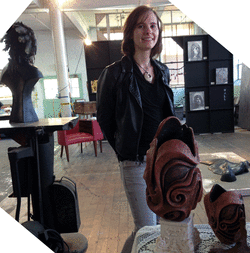 If there are any complaints about Open Studios, it will not be the weather. Full moon on Friday night followed by sunshine on Saturday. It does require stamina, though, to participate in Open Studios: hosting, meeting and greeting, explaining and demonstrating, fielding queries, marketing, and more. Not to mention potentially standing for a total of 17 hours over three days. Then there are the pre- and post- activities: cleaning and organizing the studio. But it is juicy and the energy flows both ways, all ways, in the best-case scenario. I can speak on this topic, as I was an Open Studios artist in 2013.
Now, to narrow my choice of studios from among the 129 participating artists! I content myself with 18 studio visits, complete with artist conversations, and poke my head into countless others.
It's 10:30am and relatively quiet in the Taylors Mill studio of
Bryan Hiott
, which allows an informative conversation on how he arrived at recreating 19th-century photographic processes like tintypes and ambrotypes. It was a "time travel" experience to which I cannot do justice, but I can tell you that his portraits are timeless and his creative mind fertile.
The parking lot at Taylors Mill is temporarily inhabited by statewide vendors in the "Savvy Restyle Market," perhaps a symbiotic relationship drawing consumers for both the market and Open Studios.
I once heard the behemoth Taylors Mill described as "that place that looks like Chernobyl." It is not pretty but it is transforming into a creative hub well worth seeking. On the younger side of the talent pool is sculptor
Allison Anne Brown
whose work displays a maturity beyond her years. I'm featuring Allison in a blog hop later this week. How many visual artists do you know who blog? Allison does and it's an interesting read.
There are two more artists on my list for Taylors Mill, including
Shane Bryant
, founder of The William Felton School of Crafts. It takes a moment until Shane and I realize that we were co-workers years ago at Kinko's. I remember his art dreams; it is a treat to see them in fruition. Clay is everywhere, invitingly everywhere.
Before leaving Taylors Mill which houses a hopping coffeehouse, entrepreneurial ventures, and increasingly more artists, I return to the studio of Bob Ripley. I say "return" because at last year's Open Studios, Bob invited me to learn about shoji paper - a material he uses in crafting custom shoji screens. It is now a medium in my ouevre of papers, and I want to thank Bob. Due to dealing with building code issues in a number of the studios, Bob is sharing his space with neighboring potter and Open Studio artist Mike Vatalaro.
Artists I know are generous and collaborative, and usually multitalented. Yes, this is Bob Ripley playing a guitar he built, alongside John Brookshire on bass and Jeff Gadd on keyboard. As I exit through his hand-carved studio door, out of the corner of my eye I catch Bob playing the saxophone. Can it get much better than this?
My next posting is about Open Studios, Saturday afternoon. And then there will be a posting on Open Studios, Sunday. Come join me!