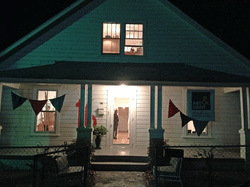 Exactly one week following my return home from a month-long artist residency in Paducah, Kentucky, I am reacquainting myself with the artists who reside in Greenville, South Carolina. And meeting new ones. During most
First Friday
s I have the option of visiting two dozen artists: painters, photographers, sculptors, printmakers, ceramists (also called ceramicists), jewelers, glass, metal, wood, textile and encaustic artists.
November 7, however, is an unusual night because a number of the artists who regularly participate in First Friday are also active in this year's Open Studios. The events' rules, entry, and fees vary from each other; with the
West End of Greenville
,
Taylors Mill
, and Augusta Road as three of the liveliest arts districts. Within each of these you can traverse as a pedestrian, but you need to drive between the areas.
My first stop is a renovated gas station, with a floral designer and fine artist sharing the former auto bays.
Sunny Mullarkey McGowan
is painter and printmaker, whose enthusiasm and energy seem boundless. I'll put in a plug for her Kickstarter campaign to raise funds for a printing press.
Next stop, across Pendleton Street and a half block away on Aiken Street, is Art & Light Studios with Teresa Roche at the helm. Studios in the West End (also referred to as the Arts District or Village of West Greenville) are housed in renovated two-story frame residential structures, flatiron buildings, and former commercial storefronts, including a bank.
Neighbors sit on front porches, dogs bark, and on Sunday I understand that the church just opposite Art & Light fills the air with exuberant hymns. Tonight, the moon is full, the temperatures are dropping, and First Friday is bustling. With anticipation, I reserve my energy for the weekend's art outings that comprise Open Studios. See you tomorrow.