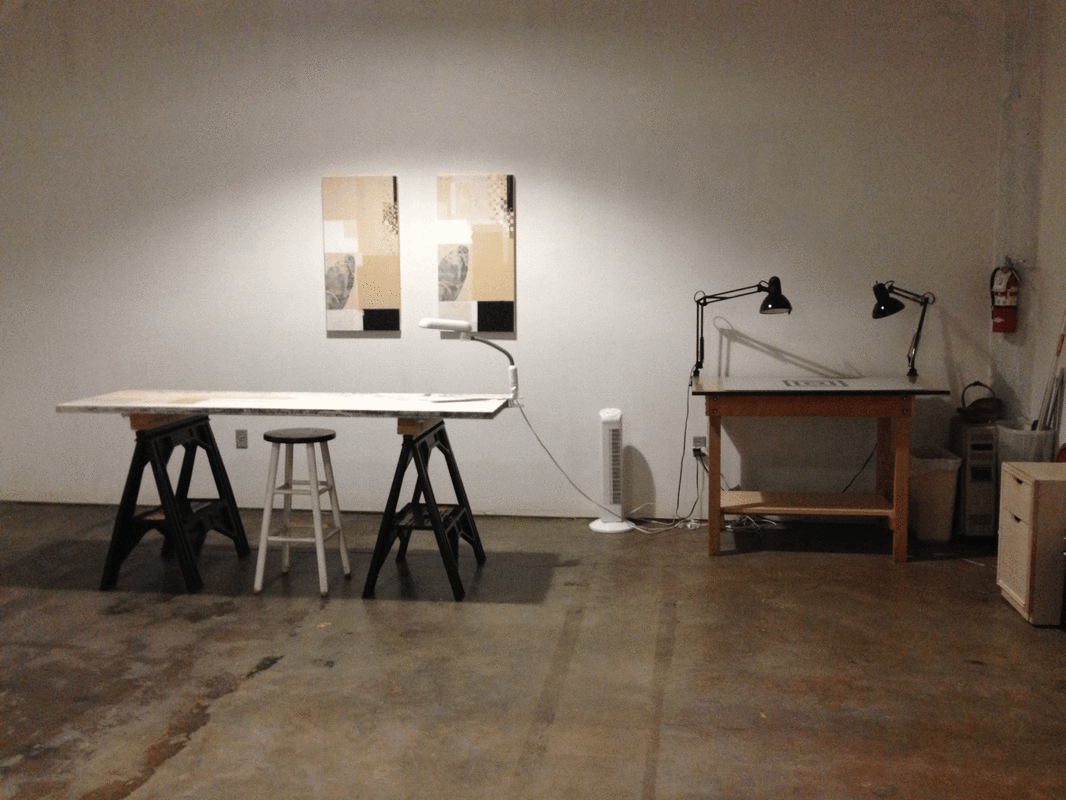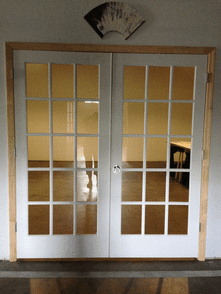 I have always liked French doors: the window panes, and the opening outward to create a broad welcoming entry. But I have never lived in a residence or studio with French doors. Until Taylors Mill Studios.
For my Rochester, NY, friends and colleagues, you may notice the similarity between the Taylors Mill studio and the spaces in the Anderson Alley and Hungerford studios. There are wide hallways lined with entrepreneurs and artists, high ceilings, industrial-strength concrete floors and structural columns. Not all studios have exterior windows, air-conditioning or central heating - the case at Taylors Mill, where there are ceiling and hallway fans, and wall-mounted heaters. In the South Carolina summer heat, trust me, I swing wide those French doors.
All 500 square feet are mine, for the first time in my life. Previously, I've managed in 100 square feet home studios or shared studios of 300 square feet. My artist residencies in Paducah and at Hambidge afforded me greater space, for which I continue to be grateful. As soon as I engineer an overhead armature, the Taylors Mill studio will function wonderfully for exploring and configuring installations. The cocoons that you see suspended in the studio do so from super-magnets attached to conduit. As long as I don't tug too vigorously, the magnets work.
Andrew Simonet, founder of Artist U, speaks of letting "the work determine the space." I listened, Andrew, and now I'm preparing for a 2017 exhibit at Greenville, South Carolina's Metropolitan Arts Council. To that end, I am using artwork measuring 82 x 24 inches, titled "Pushed to the Periphery," as one of my tables. The vertical work has gone horizontal, and transformed from a reflection of last year's breast cancer journey to a viable tool for this year's recovery. My work is no longer pushed to the periphery; it is central.
The WRK GRP co-owner of
Taylors Mill
, Greg Cotton, oversees construction and management, and is planning a grand opening in the fall. The behemoth buildings that used to house a fabric bleachery and printworks are today affectionately referred to as the Rusted Palace. Taylors Mill also houses a coffee shop, a brewery, businesses, and hosts a farmers market among other events.
I will be sending invitations when a date is set and will swing wide those French doors! Please do plan on visiting.