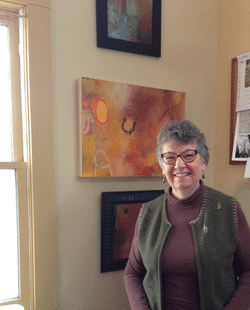 Our world is full of color, but painter Carol Beth Icard distills her palette into hues redolent of earth, fire, sky and sea. Using oils mixed with cold wax, Carol layers the buttery mixture onto clayboard to build a luminous surface. Whether on a 6x6-inch or 36x36-inch substrate, the created effect is earthily familiar yet dreamily expansive. I will refer you to her own words, to her images best viewed in person, of course, but in lieu of this, on her
website
and blog.
Artists are able, I suppose because of the nature of our work, to get to the heart of matters. When I visit Carol in Landrum, I know this is a dialogue we have anticipated via 1-1/2 years of email. In her dining room, Carol is surrounded by the artwork of colleagues, like being wrapped - as she expresses the sensation - "in the arms of friends." We smile; I feel the same in my own home. We progress toward her studio with hot tea to warm the slight chill of a November day. As we pass a large, colorful, atmospheric painting in the hallway, I do not suppress my initial reaction to compare her work to that of a 19th-century artist, and pose the question, "Do you like Turner?". Carol smiles in the affirmative.
Carol and I learn that we both have been nontraditional students, those who return to college in maturity; that we appreciate each other's work; that artist residencies are pivotal points in our artistic development (Carol's in Italy, mine in Paducah, KY); and that we are clear and confident in our focus, in our process. "Trust" is another way to phrase this. This is not to say that artists who trust their own voice are cocky, indifferent or egotistic. Rather, the critical voice of insecurity has been acknowledged and not invited to linger. Carol exudes a clarity around this, alongside an easy smile. We discuss the evolution of art processes and choices of media; art auctioned at fundraisers; the Spartanburg, Greenville, and Tryon art scenes; open studios; galleries; exhibits; prints versus originals; books; and more.
Two hours have flown; tomorrow is Thanksgiving, and we part by exchanging business cards. Carol's are Moo cards; traditional-sized two-sided business cards, one side printed with any number of images of Carol's work. She ensures that I leave with a card depicting a detail of a work I have been admiring in her studio (the central painting in the photo above). Carol also gifts me with her book, "The Color of Words: Paintings 2005-2006." But it is the line in italics on Carol's business card that leaves a final imprint: "The finest art in life is gratitude." Perhaps this is the artist's spin on Friederich Nietzsche's quote, "The essence of all beautiful art, all great art, is gratitude." Both are sentiments worth remembering as I drive the return trip to Greer, thinking of tomorrow, Thanksgiving.