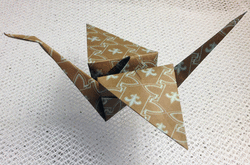 Mountain fold, valley fold. Terms that make perfect sense when pressing forefinger to paper in the process of crafting an origami crane. Of which I have made hundreds, perhaps a thousand. I'm not counting.
When I am creating an origami crane, a common response by onlookers is, "Oh, have you read the book? It's such a sad story." For years now I have smiled, acknowledging the popularly-held belief that the folding of a thousand cranes ensures a healthy recovery from a terminal illness. Or so that is how I filtered the tradition, which I heard repeatedly. But no, I never actually read "the" book. Perhaps I am avoiding the sad story.
My origami practice involves gifting the crane to family and friends, as a way of imparting its positive symbolism: longevity, wisdom, prosperity, good health, and good fortune. The number of steps, or the number of folds, belie the simplicity of the finished product: 23. It is a technique best shared one-on-one, as even the concisest diagram or video segment can boggle the mind.
It is time for me to read "the" book. I opt for the closest version to the original "Kokeshi" published in the late 1950s, which is author Eleanor Coerr's "Sadako and the thousand paper cranes." I borrow the slim volume from the juvenile section of the library.
It is a sad story. Sadako Sasaki is a real person, a girl irradiated by the atomic bomb, dying at age 12 after completing 644 cranes. Sadako's classmates fold the remaining 356 for a total of a thousand, all of which are buried with the youngster. Her classmates do not stop here: they publish her letters and journal in "Kokeshi." In 1958, following grassroots fundraising, a statue to all the children killed by the bomb is unveiled in Hiroshima Peace Park. Sadako stands on top, outstretched hands holding a golden crane.
I warned you it's a sad story. Eleanor Coerr is inspired in 1963, while visiting Hiroshima Peace Park, to locate a copy of "Kokeshi." Although it is technically a published book, Eleanor discovers most of the 94-page, stapled originals are no longer extant. Years and fate intervene, a copy presents itself, the book is translated, and the author proceeds, publishing "Sadako and the thousand paper cranes" in 1987.
Why am I writing this post? Perhaps because on August 6, Peace Day in Japan, thousands of paper cranes are placed beneath the statue in Hiroshima Peace Park. Perhaps because, over a half century following the statue's unveiling, the world still gestures toward peace. I will continue to craft the origami crane, to appreciate its symbolism, and will gladly instruct you in its 23 folds.
Sidenote: While researching origami cranes, I discover contemporary artists, such as
Linda Tomoko Mihara
, who use the crane two- and three-dimensionally in ways that are best viewed rather than described. A word of caution: the plethora of origami-crane inspired art, both traditional and contemporary, takes you down a delightful wormhole.