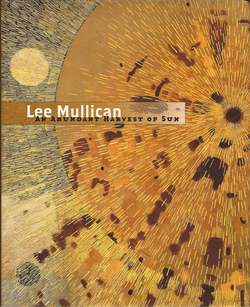 The art section of Books-A-Million in Paducah, KY, is in disarray, with animé books next to fiction books next to...well, you get the picture. With no particular title in mind, I notice what captures my attention. Here it is - "Lee Mullican: An Abundant Harvest of Sun." A detail image of Mullican's 1951 "Space" pulsates, practically radiates off the dust jacket into the bookstore aisle. Why have I never heard of this mid-21st-century painter?
The book is, in fact, a catalogue accompanying the 2005 Los Angeles County Museum of Art exhibit, "Lee Mullican: An Abundant Harvest of Sun." The exhibit then travels to Grey Art Gallery, New York University, in 2006. A clue in the foreword as to why Lee Mullican is unknown to me, and perhaps many others: he elects to work in Los Angeles during the height of the New York art scene. While the Abstract Expressionists' on the East Coast paint a dissociation from nature, a cadre of West Coast artists acknowledge nature, and tap into Eastern and other non-Western cultures.
For a time, Mullican is an integral member of San Francisco's Dynaton art group that is involved with, in his words, "...the study of nature, and the study of pattern...We were dealing with art as a way of meditation." In the early 1950s - the Alan Watts era, the artist finds Zen influencing his paintings. Perhaps it is his interpretation of what I see as Japanese aesthetic that inexorably draws me to Mullican's work. Nonetheless, for now, I reshelve the book (only to order it later online). The images attract like a magnet.
Among Mullican's early influences is the markmaking of Paul Klee, admittedly a personal favorite of mine. A number of catalogue contributors cite Mullican's military time with topographical mapping as another influence on his later work. But it is the golden glow, the quietly kinetic line work that mesmerizes. And that line work in his oil paintings - a striation technique - arrives when Mullican is handed a printer's ink knife by Greenwood Press's Jack Stauffacher. How fortuitous.
And his "Tactile Ecstatic" sculptures! From 1950-1960 Mullican crafts totemic, shamanistic wall sculptures singularly both delicate and strong. Constructed of painted wood, twigs, string, and feathers, the vertical pieces range in size from 18.5 x 6 x 2.5 inches to 56.75 x 19 x 2 inches. Whether it is Mullican's childhood in Chickasha, OK, or a later affinity with Native American art - as well as pre-Columbian, African, and other non-Western cultures, the references are clearly evident. There are 10 sculptures indexed in the catalogue; I could never imagine enough of them.
Lee Mullican, 1919-1998, and wife Luchita Hurtado (herself once a painter) raise yet another artist, Matt Mullican. I'll let you explore Matt's work on your own, as his sensibility is world's apart from his father's: hypnosis for son; transcendence for father. Filmmaker and son John Mullican creates a 2008 documentary, "
Finding Lee Mullican
"; do at least check out the trailer.
Have I piqued your interest? I know that Lee Mullican piques mine.