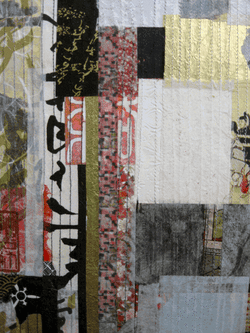 What I really want to write: "Deadlines are our enemies," but this is simply not true. Whether self-imposed or the necessary element of a grant proposal, artist residency application, or exhibition prospectus, THE deadline can serve as impetus and also prompt inspiration.
Still, the deadline looms like an Acme anvil in a Roadrunner cartoon (hopefully a reference that even Millennials can grasp). And heaven forbid that we artists have multiple deadlines because even a very organized individual, i.e., myself, can miss that all-important date. All of this to say that the results of deadlines are evident and rewarding right here in my own backyard:
Paul Yanko
's exhibit at Hampton 3 Gallery, Greenville, SC; and
Terry Jarrard Dimond
's "Textile Constructions" at Upstairs Artspace, Tryon, NC. Please visit the exhibits or at least the websites.
Then there is my self-imposed once-a-month blog deadline, which I missed in April because of other self-created deadlines. I really wanted to set up a spring trunk show/demo and workshop at the
Fine Arts Company
in Hagerstown, MD; a solo exhibit in the
Artists' Guild Gallery
in Spartanburg, SC; and was hoping to be welcomed back to
Stephen Merritt
's "Art in June" exhibit in Rochester, NY. I was especially dreaming of these venues during the cold, wet and dreary winter months when spring and summer seemed intergalactic spans of time away. Now they have arrived and I am breathing deeply in the now-ness of it all.
At the risk of offending someone, because this resource may seem a bit sophomoric, I find there are valid points in the responses to a deadline-question posed to
Creativity Coach Eric Maisel
. Valid points: don't procrastinate, build in wiggle room, use a calendar for visual cues, small steps can also get you there, and engage friends and mentors to stay on track. Hmmm, what is working for me?
"Don't procrastinate": I did not, although I was not juiced and became obsessed with theme and concept to the point of incapacitation. My calendar was staring directly at me while I was taking "small steps" by gathering raw materials. Nonetheless, I was in neutral, idling the engine, and waiting for a revelatory moment. The anxiety of the ticking off of days only exacerbated the situation. Which is when I called a trusted artist friend
Jeanne Raffer Beck
, who basically gave me permission to show both existing and new work. The existing work will have a new audience, and the new work will debut. I literally exhaled tension with her insight and advice.
I look forward to posting images of new work, which I like to do only upon exhibition - debuting in the real world before doing so in the virtual world. And I wish you smooth sailing toward your next deadline.