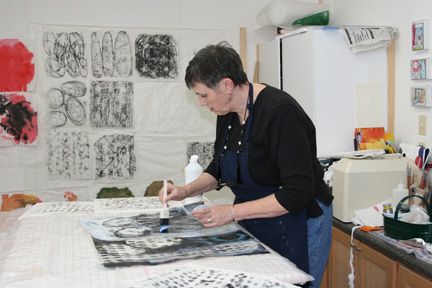 I feel as though I have walked into a pristine yet primal forest. A sophisticated landscape at its peak, with a hint of the onset of decay. Of the natural life cycle where I am the recipient of the gift of oxygen as the vegetation processes the carbon monoxide silently for my benefit. Such is my experience of the work of Clemson, SC-based textile artist
Terry Jarrard-Dimond
in the Sheffield Wood Gallery at the Fine Arts Center.
Jarrard-Dimond has recently spent a weeklong residency at the FAC, about which you can read more and view pics on her
blog
. In one corner of the Gallery, on-loan fabric swatches show different surface design treatments by the artist and some of her colleagues - this is the educational component of the exhibit. I tend to read the artist's statement after breathing in the work, so that I am not predisposed to interpret through her eyes rather than mine. Perhaps the first preconceived notion to be tossed out the window relates to the nature of the quilt, of quilting itself. The stitches that bind these disparate pieces of fabric are not your great-grandmother's. Some are functional, some are mere mark-making. One can just as easily see Jarrard-Dimond's pieces as paintings on canvas.
From the artist's statement...
"The evocative power of abstract and nonobjective imagery is at the heart of my work." True, as the greens and verticals evoke trees in my imagination.
"Compositions develop through the process of action and response as I dye, paint, cut and restructure fabric." This is the dialogue I often describe to my own students as taking place during the creation of a work of art. First there is an idea, then the initial mark or piece of material is laid on the canvas, the paper, or fabric. From this point forward the conversation may remain focused but take many detours before reaching its destination.
"I like to think of my work as textile construction and the content as interior landscapes." Because Jarrard-Dimond exhibits her work from the past 5 years or so, I glimpse the path of her evolution. The use and placement of color becomes more subtle and refined over time. Machine- and hand-stitching dance the waltz as well as the tango. The scale of the work - approximately 4-feet square-ish - remains a constant.
"These landscapes are filled with marks, figures, structures and spaces that have a story to tell but which are very open to interpretation." Aurora (2012) is full of sfumato, black and white and gray organic smoky clouds against which angular architectural shapes are anchored. Or are the structures rooted in a murky waterscape created by droplets of black ink? Open to interpretation. NYX (2012), also a black and white and gray composition with a hint of yellow - the color of tobacco stain - depicts the beginnings of decay. It's a masterful juxtaposition of horizontal and vertical strips and a mysterious organic vertical column, with lots of machine- and hand-stitching.
Two personal favorites are perhaps studies, done on a smaller scale: Connectedness (2012) and Transitory (2013). Connectedness is all about markmaking. It is punctuated with handworked cross stitches and tacking in the more solid areas of fabric, giving the eye a place to rest before dancing in delirium through the meandering machine stitches. Transitory relies solely on machine stitching while its counterpoint relies on its marks. It is as though the hand has just left the surface, leaving sweeps of vigorous charcoal. Marks of the machine, marks of the human; coexisting in a lively yet peaceable world. Open to interpretation. Visit the exhibit through March 22.
The new Fine Arts Center is located on the campus of Wade Hampton High School; a much improved version of the school (formerly located in what is now Legacy Elementary School) where both our sons received a world-class cultural education. It's a flagship building brimming and bristling with drama, music, dance, writing, and visual art. The FAC's permanent art collection displayed in the hallways provides yet another visual treat, with a range of work and artists that span generations, and local and national fame: Alice Neel, Robert Rauschenberg, Nancy Jaramillo, Elizabeth Catlett, to name but a few. The student display showcases ceramics, metalsmithing, and sculpture. The
Fine Arts Center
is located at 102 Pine Knoll Drive, Greenville, SC 29609, 864-355-2551. Stop by the office for your visitor's pass (security reasons, of course); have your driver's license ready for scanning, and be aware that traffic can be congested during student ingress and egress, including the transport of students to/from afterschool programs.
Photo courtesy of the artist.