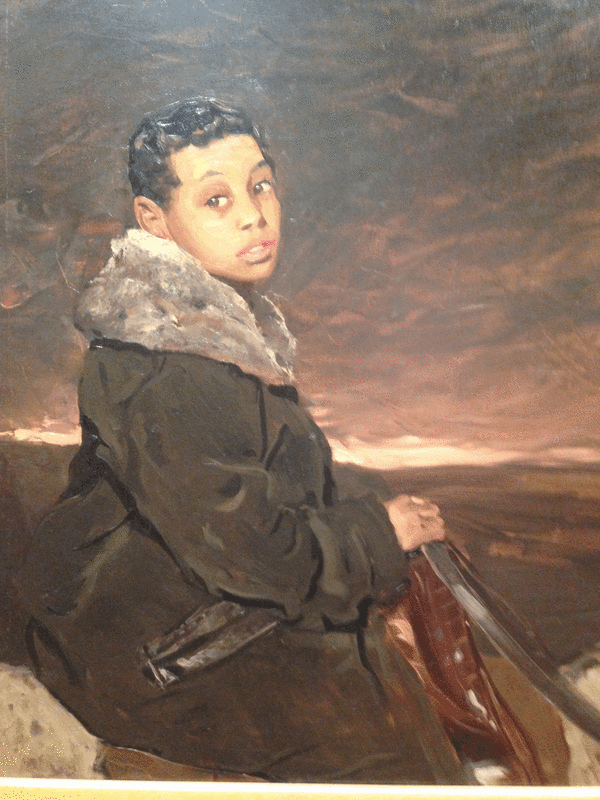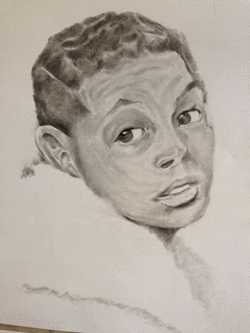 Rochester-based artist Jeanne Raffer Beck and I are conversing long-distance about, what else, art. How can we bridge the gap between product and process, so that the viewers of art and the makers of art can better connect? Museum and gallery visitors stroll in, look at a painting, and then walk away. Where is the engagement? She poses a great question and immediately, in my mind's eye, I see a father and his two daughters staring at "Boy on a Horse" and drawing with No. 2 pencils.

You see, this family is attending Sketching in the Galleries, a community outreach event that is free and open to the public, as is the Greenville County Museum of Art itself. From 2-3pm on Sundays, museum-goers can attend concerts, listen to lectures, or participate in a hands-on activity. This is my fifth Sketching in the Galleries. I never know if a handful or roomful of walk-ins are going to appear; today there are 19. Each has a stool, sketchpad, and pencil.

I hear the comment, "He's so pretty, I thought he was a girl," several times from viewers of Sidney Dickinson's 1918 painting "Boy on a Horse." Admittedly the thought does not occur to me, as I peer at the slightly angular cheekbones hinting at a pending passage from boyhood to manhood. This is the painting I have selected from the Museum's "Alabama Suite" exhibit for my January 25 demonstration.

This event is not a solo act: public relations publicizes, museum guards assist, education department staff coordinates, curators prepare a handout, staff procures an easel, and so on. While I do not consider myself a portraitist, each of my choices for Sketching in the Galleries is indeed just that. My first was another Sidney Dickinson oil painting "The Pale Rider," followed by two Andrew Wyeth watercolors "Tundra" and "Captain Cook," and then an American Impressionist painting by Helen Maria Turner, "Girl with Lantern." This last choice gave me and the audience an opportunity to work with colored pencils.

Usually I translate oils or watercolors into graphite, where each one-hour demo is a concise drawing lesson. With "Boy on a Horse" I distribute tortillions/paper stumps for the purpose of blending the graphite. Tweens to seniors work on their 9x12-inch paper, surrounding my own 18x24-inch easel-mounted sketchpad. I cannot resist visiting each portrait, glimpsing everyone's unique style, commenting on an eye or a nose. I applaud the courage it takes to draw a first portrait, to become vulnerable in the process of learning.

Draw often, I exhort as I share the five attempts I've made to capture the likeness of "Boy on a Horse." The one posted here is, in full disclosure, an 18x24-inch created in my home studio using a photo of the work, a range of graphite pencils, and the grid system. Working at this larger-than-life scale allows me to delve into the details, to recreate the brushstrokes and hopefully capture the nuances. But even after completing this, just days prior to January 25, I return to the Museum for a one-hour sketch using only an Ebony pencil. I feel a sense of confidence and boldness that only comes with practice.

Ah yes, I'm rambling on about the event, about the materials and the process, but I've not yet shared information about "Boy on a Horse" or its creator. Sidney Dickinson (1890-1980) studied at the Art Students League where he later taught for a quarter of a century. He exhibited in the Northeast, was a member of the National Academy of Design, and served as a jury member. What is most relevant in relation to "Boy on a Horse" are his visits to the Calhoun Colored School in Calhoun, Alabama, where the model was most likely a student. Dickinson's parents worked at the school established by his maternal aunt Charlotte Thorn, who in turn was guided by Booker T. Washington. Elementary academics and trades (teaching, farming, cooking, sewing) were taught, beginning in 1892.

The preceding information is courtesy of the Museum's curator, while the following are my thoughts. The painting is dark, not uncommon for Dickinson, with a band of light on the horizon, either sunrise or sunset. The boy is mounted on a saddled equine, wearing a heavy coat, and glancing out of the picture frame with furled brow. I wonder if he has heard his name called? Is the band of light the dawning of peaceful times following World War I (which ended in 1918, the same year as this painting)? Is the boy looking back at his childhood while poised to move forward into manhood? Dickinson's paintings tend to harbor meaning, but there appears to be little information on this particular work. Thus, I allow my imagination to wander.

Like the participants in Sketching in the Galleries, I too attempt to bridge the gap between product and process, to connect with the artist's mind and the germination of his painting. Spending time looking, seeing, researching, imagining, and then taking pencil in hand - as Sidney Dickinson took paintbrush in hand - are ways to engage, to begin a journey not unlike the one the artist embarked upon almost a century ago.