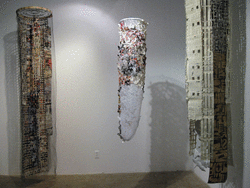 I am grateful to textile artist Terry Jarrard Dimond for inviting me to join this blog hop. She in turn received her invitation from Judy Kirpich; the blog hop was initiated by Kathy Loomis.
http://studio24-7.blogspot.com
,
http://unmultitasking.blogspot.com
,
http://artwithaneedle.blogspot.com
.
A blog hop is a vehicle for increasing exposure to artists' blogs and ultimately to the artists themselves. It is a collaborative effort that allows us to introduce ourselves to each other and to the world, and then to highlight another artist. My choice for the "passing of the baton" is the blog of sculptor Allison Anne Brown, a young up-and-coming artist based in Greenville, SC. I've created a separate posting for Allison's photos and a bit more info.
Now to the four questions: What am I working on? How does my work differ from others of its genre? Why do I do what I do? How does my process work?
1. What am I working on?
Following the month of October as Artist-in-Residence with the Paducah Arts Alliance, Paducah, KY, I am now working on an installation for Greenville, SC. Technically, I am a mixed-media artist who works primarily in paper. I've also been described as a fiber artist. My current choice of paper is shoji: I precoat it before inkjet-printing, then have components, e.g., gingko leaves, die-cut. These are assembled into suspended free-rotating "cocoons." I also use additional media - textiles, metal and wood armatures - any material that achieves the effect I am seeking. That effect is translucency, layering, ephemeral. Each suspension is at a human scale, not overwhelming. As each installation is site-specific, the basic components are reconfigured in relation to the venue, and to the mood of the geo/social location. To explain a bit: Paducah's rivertown pace differs from Greenville's metropolitan pace. The installation in Kentucky reflects the mood of "quiet yet energetic," while the installation in Greenville will offer more "quiet" to counterbalance its urban energy.
2. How does my work differ from others of its genre?
When people hear that I work in paper, a number of assumptions surface: drawing, folding (origami), and handmade paper. When I am identified as a fiber artist, the assumptions include: textiles, thread, sewing. My work does incorporate a number of these mediums and techniques, but also freely utilizes others. While I continue to create on-the-wall pieces, five years ago I began removing my artwork from the frame. With installations, the work is off the wall and suspends from the ceiling.
3. Why do I do what I do?
This is a really good question, because a number of my friends (artists included) do not understand why I create installations. They are labor intensive; they go up, they come down. To date, no one has purchased an installation or part of an installation. I respond: for the experience of the gallery-goer. In October, I created a 9-foot walk-in suspension and discovered its interior peacefulness. Here's a pic with abstract artist Rosemary Claus-Gray inside.Responses by others range from "fun" to "serenity" and, at its premiere in Paducah, KY, gallery-goers were taking cellphone-videos from inside the walk-in as it slowly rotated. The installation as a whole is intended as an oasis from our daily sensory bombardment; an "exhale" moment.
4. How does my process work?The work begins as a concept, without preliminary drawings, utilizing a particular set of materials. It proceeds as a "dialogue" between artist and artwork until it appears to resolve, hopefully before it is overworked. I want the energy involved in the process to remain palpable in the final product. During my residency, I experimented with not only the die-cut gingko leaves but also with their carrier sheets. The play of positive and negative, a layer of machine-lace, an embroidery hoop armature - all resulted in one of the most ephemeral "cocoons" I have created to date. And the most difficult to photograph for this same quality.