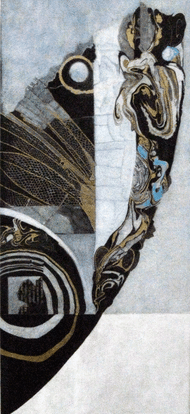 Writing an artist statement, especially for a specific exhibit, can be daunting. How to distill, to crystallize the swirl of mental and emotional processes that materialize themselves into a work of art? Here is what I submitted for an upcoming exhibit in Rochester, NY. Two series traveled from South Carolina to New York, both on cradled wood but one series is 36x24 inches while the other is 22x10 inches. My goal is to keep it short and accessible.

"A native of Syracuse, NY, I resided in Rochester from 2004-2012, often working out of the Anderson Alley Artist Studios. Enamored of the Edo period of Japan, an Asian aesthetic is visible in much of my work, whether cradled wood collages or site-specific installations. 'Edo Influence' and 'Remnants' share their verticality, and their search for a sense of balance. A balance of space and activity, composition and detail, quietude and energy.
'Edo Influence' suspends colorful collage within neutral geometric planes and layers textural elements to create a Zen-like sense of balance. It is vertical; as a human, I am a vertical being. Each piece mirrors my personal search for balance: for private space amidst the noisy energies of daily life.

'Remnants' embodies awe and grief, two emotions I feel upon discovering a lone butterfly wing. Awe for their strength and fragility, grief for an individual death as well as the disappearance of a number of their species. Exploring the butterfly as a recurring motif is now into its fourth decade for me. Here, angularity meets curvature; human invention intersects with organic nature."

In the midst of creating the "Remnants" series, images of migrants fleeing their native lands at great peril are filling the airwaves. The poignancy, the compassion I experience while working on the butterfly wings are emotions akin to what I feel for those trodding for miles on new lands. It helps to voice these thoughts with trusted friends, one of whom shares what she sees, what she "hears" - having seen only one "Remnants" image via email.

"If you look at how you have put together disparate elements to create something beautiful...I can see it as a metaphor where you could think about migration." She is referring to the stages of the butterfly and connecting it to the human migration currently in the news." She continues by posing this question: "While we are each in our own cocoons, are we open to a metamorphosis that incorporates an inclusion of disparateness? Where each element retains its individuality, but together contributes to the creation of something beautiful?"

What an eye-opening, socially and spiritually conscious connection my friend makes for me. Yes, there is an awe for the migrants' strength and fragility, and grief for the death of a drowned migrant child. There is also a sense of hope in the beauty of a butterfly wing.