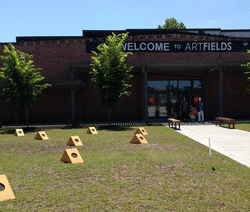 Artfields in Lake City, SC, is in its infancy, having premiered in 2013. In 2015, it is now an ambitious infant-turned-toddler: 400 works of art, 9 days of viewing, more than 45 venues, scores of volunteers, workshops, tours and talks, music and edibles, walks and runs, and more. But my desire to arrive in this out-of-the-way rural town is prerequisite. I am curious enough to drive the 3-plus hours (each way) from Greenville for a firsthand look at this high-stakes venture. And it's a beautiful day on Monday, April 27.
I'm a believer in doing one's homework. By perusing the
Artfields
website, I zero in on the artists and art that pique my curiosity, creating a "don't miss list." Admittedly I do not see - nor intend to - all 400 works of art, as I overwhelm easily. The scale of Artfields is manageable though, because a majority of the venues are nestled within several of the quite walkable downtown blocks.
Twelve southeastern states are represented, with 400 artists from an applicant pool of 1,000 accepted by an "independent panel of visual arts professionals." As I understand the process, the venues' proprietors then select which artists they prefer displaying. Which explains, for example, the socio-political theme running through the Jones-Carter Gallery.
Here is where it becomes even more interesting: Artfields winners are determined by popular vote and juried panel votes. I am allowed to vote for as many artists as I choose, but only one vote per artist, which I accomplish online at the Voting Center on East Main Street. I also cast a few more votes upon arriving home, via the website. Texting is yet another option. The top Prize rewards $50,000, the Juried Panel Prize $25,000, and the People's Choice 2-D and 3-D awards command $12,500 each. I am unclear from the website's description just exactly how the top Prize is determined. High stakes indeed.
If you've segued off this blog to the Artfields website, you have glimpsed the winners. Before I embark on discussing the outcome, I want to share my experience of the event itself. For me, the warehouse-scale spaces appeal: the R.O.B., the W.A. McClam Livery Stable, and the Jones-Carter Gallery. The R.O.B. allows groupings of 2-D and 3-D via the use of partitions, and is spacious enough for installations. In full disclosure, I am partial to installations. Adrian Rhode's installation is suspended from the ceiling of the local Mexican restaurant Jarrito's, Mike and Patz Fowle's winning fish installation is tucked into an alcove of the Bold and Sassy Boutique, Sally Garner's crocheted VHS tape installation looms in the Livery, and Michaela Pilar Brown's challenging socio-political installation stands among several others in the Jones-Carter Gallery. If one's preference is a traditional framed landscape, I direct you to the Southern Distributing Company to peer over a gleaming white bathtub display.
Greenville artists are well represented: William Abbott, Ayako Abe-Miller, Alice Ballard, Zac Buser, Tami Cardnella, Matt Cook, Kim Dick, Darlene Fuhst, Heather Love, Hamed Mahmoodi, Charles Pate Jr., Betsy Powell, Judy Verhoeven, and Chris White. While none of our locals are prize winners, I can divulge that none of my favorites emerge as the chosen ones either. It appears that, for the most part, representational art continues to triumph. My favorite? A hard-to-find, in the back room of Main Street Mercantile, subtle non-representational piece by New Orleans artist Loren Schwerd, "Peak," comprised of nylon netting and thread.
And my favorite moment? A group of women gather around a work of art in the Jones-Carter Gallery, with one commenting that "This is the only piece that is inspiring. The rest of the artwork here is a downer." To which another woman appropriately responds, "The artwork here represents the way the world is today." I don't linger to eavesdrop, but I am heartened that at least this art is sparking a conversation.