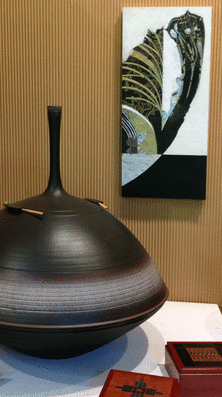 Butterfly wings? For the past three times that I have participated in "Art in June," I have shown wall-mounted fans. This year I introduce collages from a recent butterfly wing series titled "Remnants." And I brought a few remaining fans as well. While the "Remnants" series exhibited in Rochester in December 2015, with Stephen Merritt and Jonathan Merritt at Baush & Lomb's Geisel Gallery, I know that many were not able to brave the winter weather. I worry that my Asian-influenced fans will be the expected motif but soon my fears are allayed. Butterfly wings (and fans) are well received, with a number of them having now found new homes. Thank you my beloved collectors.
For over 15 years Stephen Merritt has invited artists to join him in his studio for "Art in June." The potter moves his equipment, rolls out a corrugated paper wall, positions pedestals, and transforms a working studio into a gallery for each weekend in the month. Mary Lou Wilson designs and prints postcards, Donna Merritt creates a tableau from whatever food and beverage the artists bring, and the weather follows the dictates of nature. Visitors ooh and ah over the architectural beauty of Steve's studio nestled in the wooded backyard of his home at the end of a long residential street. Who wouldn't want to linger and imagine this as their very own world?
"Art in June" is about the work and not about the work. To use a word that is misappropriated and misused, but appropriate here, each weekend is "curated." Craftsmanship and professionalism are key. I am with jeweler and sculptor
Lorraine Cooley
, woodworker Dick Westfall, and of course
Stephen Merritt
. Never is there a sense of competitiveness over space or guests or work or sales. We are each other's advocates and storytellers. So refreshing.
On Saturday my California brother surprises me with a visit, accompanied by one of my sisters. Another brother and his girlfriend, and her daughter, trek to Rochester from our hometown of Syracuse on Sunday. I am buoyed by so many: a former Arts Council co-worker, a program director at Gilda's Club, several botanical artists, Anderson Alley and Hungerford studios artists, a poet and her spouse, a former non-traditional student (as I once was) at The College at Brockport SUNY, and even the hostess of my Airbnb. The mosquitoes and black flies are not at their worst and the predicted rain does not manifest. Our conversations encompass health, children and grandchildren, art, the past and the future. Life is good.
Did I mention that worrying is in my family-of-origin's makeup? My brothers and sister, the ones visiting Rochester, agree. Which is why, on the long drive home to Greenville, SC, with my husband, I am already worrying about the artwork for next year's "Art in June."